Skin Care
6 Best Massage Oils for a Rejuvenated Mind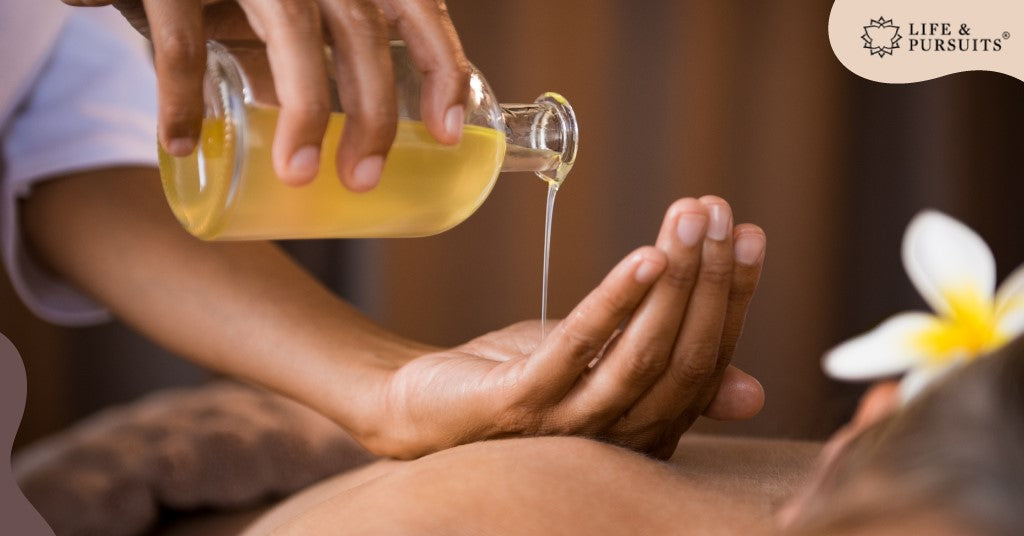 Who doesn't feel good after a perfect massage? Body massage oils are often carrier oils that are reinforced with essential oils to help with muscular relaxation and to calm the body and mind.
Carrier oils are vegetable oils, such as coconut or mustard oil that play a crucial role in aromatherapy by dispersing essential oils. By diluting essential oils, carrier oils allow people to apply them to the skin without experiencing unpleasant side effects. When fragrances of these essential oils come into contact with the olfactory nerves in our nasal cavity, they send relaxing signals to our brain. The calming effect assists in preparing the body for sleep and aids in nervous system relaxation. Getting a massage can help you unwind, reduce muscle tension, improve circulation and calm your mind. 
Here are the top five massage oils for a rejuvenated mind:  
Best Massages Oils for Perfect Self-care
Nothing helps you relax quite as much as a soothing massage. Here are some of the massage oils you can try for therapeutic benefits: 
1. Almond Oil
Sweet Almond Oil comes from almond kernels and is rich in omega-9 and omega-6 fatty acids. It is traditionally used by massage therapists to increase their clients' sense of well-being, as well as rejuvenating and softening the outer layers of skin. Aromatherapy releases knotty muscles with almond oil.
Before applying, warm the oil up to your body temperature to enhance absorption. This natural oil has a mild, slightly nutty scent, which most people enjoy, but you can mix a few drops of lavender oil, or whatever other essential oil you like, to make it more personalized.
Read more: Are you sleeping enough? How head massages with oil can help you sleep better at night 
2. Mustard Oil
Mustard oil is most commonly used for food preparation as well as for therapeutic purposes. The Northern part of India uses mustard oil for body massage during the winter months since it is considered to be a warm oil. A mustard oil massage can alleviate a variety of skin and internal tissue issues.
As a therapeutic agent for human health, glucosinolate, found in mustard oil, exhibits antibacterial, fungicidal and anti-rheumatic properties.
3. Coconut Oil
Coconut oil is common in muscle rub creams, massage oils, and body butters. The liquid nature of fractionated coconut oil is great for massages. Fractionated coconut oil has no odor, so it's a favorite for diluting oils for rollerball perfumes.
Besides its anti-aging and skin-healing benefits, coconut oil stimulates collagen production, and it is rich in vitamin E, which protects the skin from sun damage.  A regular massage with coconut oil reduces inflammation and heals wounds.
Tip: You can add a few drops of peppermint essential oil to coconut oil for soothing inflammation. 
4. Sesame Oil
The Ayurvedic tradition refers to sesame oil as "the king of oils" because of the benefits and versatility it offers. Sesame oil can be used for a variety of Ayurvedic regimens, particularly abhyanga (self-massage). 
The goodness of sesame oil is particularly beneficial for balancing vata dosha, which is prone to excessive dryness. A warm abdomen massage can reduce vata imbalance in the abdomen. Ayurvedic doshas, which is the combination of each of the five elements that includes jal (water), prithvi (earth), aakash (space), vayu (air), and teja (fire). Before going to bed, massage the scalp and soles of your feet with sesame oil.
Read more: Why is abhyanga or ayurvedic self-massage beneficial for holistic self-care? 
5. Sunflower Oil
Sunflower oil, extracted from sunflower seeds, helps hydrate, soften, prevent moisture loss, shield the skin from external damage, and stimulate cell regeneration. 
Many cosmetics and medicines contain sunflower oil because of its emollient properties. With its high antioxidant and nutrient content, this oil is effective for massages and at treating eczema, acne, inflammation, general redness, and a variety of skin irritations. Its high levels of Vitamin E also work to fight free radicals and slow the signs of aging.
6. Moringa Oil
Moringa oil is derived from the seeds of a tree called Moringa oleifera. It is rich in fatty acids, antioxidants, sterols, tocopherols, proteins, vitamins C and A, as well as flavonoids. 
A golden potion for skin, it's known as the world's most nutrient-dense oil. Because of its excellent skin penetration profile, you can massage your scalp with moringa oil to restore hydration or combine it with a few drops of olive oil to nourish your skin. The zeatin and cytokinin content makes it unique, as these compounds support and nourish aging cells, promoting cellular growth. 
Life & Pursuits
offer organic ayurvedic products that are an amalgamation of ancient wisdom of Indian Ayurveda and quality standards of the West. All our products are certified by India Organic and USDA. Unwind with our wide range of revitalizing massage oils.
Leave a comment