Baby Care
6 HELPFUL TIPS FOR PARENTS TO HELP THEM PREVENT DIAPER RASHES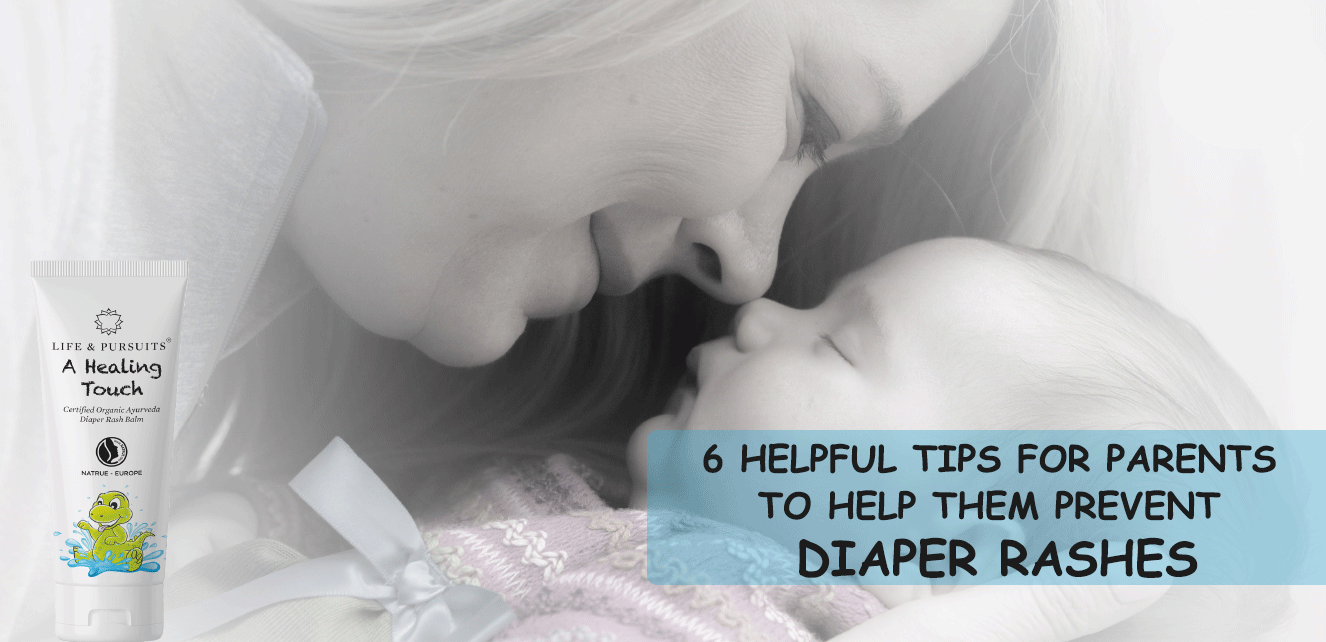 If you've recently embarked on the beautiful and adventurous journey called parenthood, you've definitely witnessed the monster that often makes your baby cry - diaper rashes. Rashes, characterized by inflammation and redness in your baby's bottom, often make your little one cry, especially when you change diapers. If left unattended, rashes can be a cause of great discomfort and pain.
Rashes occur due to various reasons – too much humidity, too less air, soiled diapers, friction between skin folds and use of synthetic/harmful skin products on those sensitive bottoms.
Here's how you can ensure prevention of diaper/nappy rashes and keep your baby bottoms giggling:
1. Change Diapers Frequently
It is crucial to keep a close check on when a diaper gets soiled. Replace it with a dry one, even if your baby isn't cranky. A damp diaper will always cause rashes. It's common to change diapers up to 8 times a day. It may sound like a lot, but is necessary to protect the vulnerable skin of your baby.
2. Let Bottoms Breathe Free!
Yes, you got us right. It is a good idea to let your baby have some play or sleep time without any diapers on. The fresh air soothes the naked skin and dries up the humidity caught in your baby's skin folds. You could use an absorbent towel to lay your baby on, in case there's an unforeseen leak.
3. Rinse, Not Wipe
It has become a common trend to use a scented baby wipe to clean the private regions of the baby. It's more convenient than washing, after all. However, rinsing the baby's skin with lukewarm water is a more hygienic habit. Avoid using wipes as most wipes available in the market contain artificial fragrances and synthetic preservatives and toxic chemicals that irritate the sensitive baby skin further.
4. Wash Your Hands Well
We're sure you don't want the germs/bacteria from your hands, to unwittingly get transferred to your baby's skin. Wash your hands well, every time you head to change a diaper.
5. Keep A Bit Loose
If the diaper is too tight, it'll rub against the skin even more. Thus, a little breathing space should be left.
6. Use Effective Barrier Cream
After properly drying up the affected area, apply an effective barrier cream. Zinc oxide based creams protect the gentle dermis of your baby.
'A healing touch' by Life & Pursuits, is the best diaper rash cream you can ask for. Free from mineral oil, synthetic fragrance, colors, parabens and other toxic chemicals, it is an organic cream certified by NATRUE (Europe). It is a therapeutic blend of certified organic oils & medicinal Ayurveda herbs like Yashad Bhasma (Zinc Oxide), Neem, Haldi, Tulsi, Manjishtha that soothe & heal irritated skin, thereby reducing skin redness and discomfort.
You can buy this directly from our website or can order it on Amazon as well.
HAPPY PARENTING!
Leave a comment