Monsoon Skincare
A COMPREHENSIVE GUIDE TO SKINCARE DURING MONSOON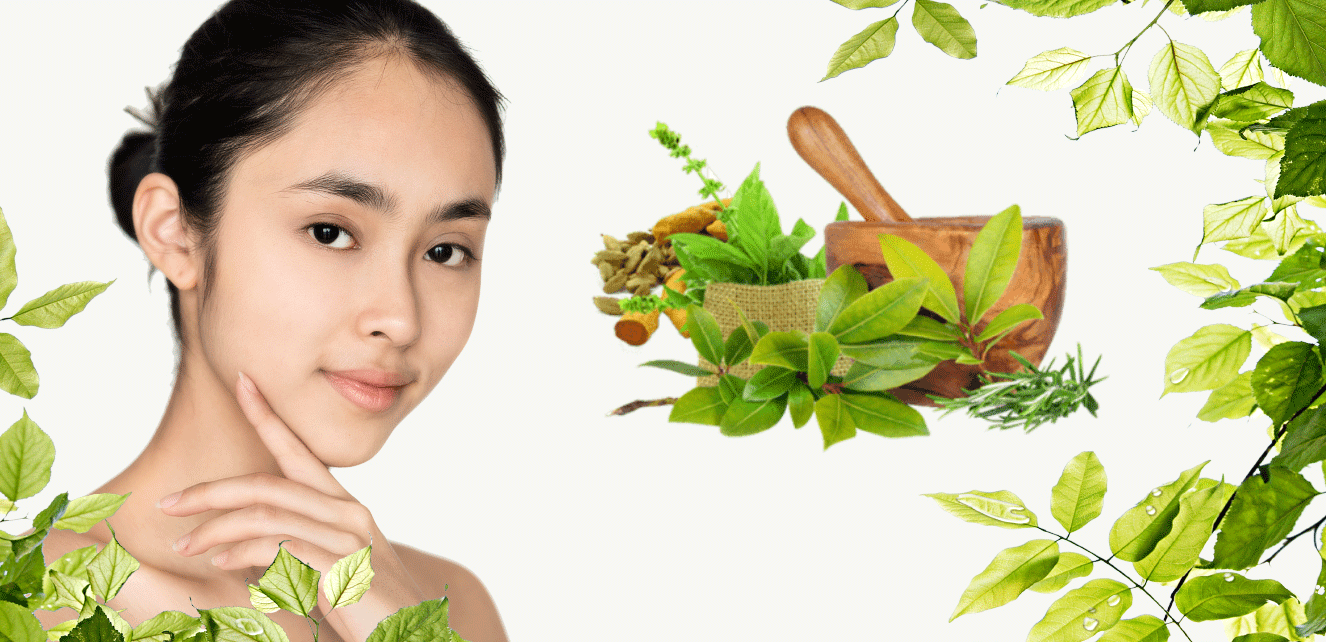 The sweltering heat of the summer months leaves us hot and bothered. With the arrival of monsoon, we feel a sense of relief, as the soothing breeze and sudden spells of rain induce pleasure. However, monsoon also brings along with it a host of diseases, such as malaria, dengue, common cold, and typhoid. Health issues during the rainy season are not limited to the body, as we also experience skin problems in the form of rashes, heat boils, acne, and eczema. As our immunity levels drop and infections spread through the air, our skin and hair are affected the most due to moist weather.
As skincare is a vast field that includes a range of topics, it is crucial to cover all aspects included within the same. To start with the basics of skincare, a comprehensive cleansing, toning, and moisturizing (CTM) routine using organic skin care products should be a part of your skin care regime. When you follow a CTM routine religiously, your skin will thank you and glow on its own accord, keeping pimples and rashes at bay.
Cleansing
Before going to sleep at night, it is important to cleanse your skin to remove the layer of impurities that accumulate on the skin surface throughout the day. In order to retain the smoothness of your skin and avoid infections, use a mild, preferably organic face wash to cleanse your face. For those with sensitive skin, you can apply face packs made with natural ingredients, which will help wash off impurities and reduce pigmentation.
Cleansing should be done on a daily basis, especially when you wish to remove makeup, and for that purpose, a mild cleansing milk can be used. Do not rub your skin aggressively - this can aggravate pimples and cause rashes. Use a soft cotton pad to gently cleanse your face and neck to prevent the clogging of pores.
Toning
Until recently, toning was considered a useless skincare regimen as its benefits are not overtly visible within a short period of time. Most toners available in the market are used for removing residual makeup and double cleansing. Toners help in maintaining hydration of the skin and de-clogging pores.
Use toners that do not contain alcohol, as they are liable to make your skin dry instead. All-in-one toners in the form of face mists can also be used by directly spraying them to your face or applying it from your palm. Traditional toners seep deep into the epidermis and repair the skin from within. If you wish to opt for completely natural ingredients, you can splash organic rose water or cooled-down green tea on your face twice a week.
Moisturizing
The last step of the CTM routine is the most important. Monsoons cause loss of moisture from your skin, therefore, using an organic body lotion for dry skin will be optimal. Moisturizing lotions create a protective barrier between your skin and the atmosphere, preventing it from becoming dry and dull. Also, it is important to keep your skin type in mind while choosing a moisturizer. If you have dry skin, go for a heavy-textured moisturizer, and as for oily and combination skin, a light oil-free moisturizer will do. A good option is the Life & Pursuits' Organic Ultra Light Lotion, which gently moisturizes, softens and pampers skin, and is ideal for oily and combination skin. This product is loaded with the goodness of aloe vera and is free of toxins, parabens, and mineral oils. No matter what kind of moisturizer you choose, apply it diligently and witness the difference it makes to your skin!
Apart from following the CTM regime, there is a list of things one needs to keep in mind. A combination of factors will help keep your skin healthy, glowing, and acne-free. Remember to:
1. Drink Plenty of Water
We all know that drinking an adequate amount of water on a daily basis is beneficial for your health, as it aids in digestion, blood circulation, and absorption. It also helps to attain a healthy, radiant, and younger-looking complexion. Lack of proper hydration might make your skin appear dry, rough, and flaky, making it prone to wrinkles. It is also important to splash your face with water to keep acne and rashes at bay. Drinking at least 8 glasses of water every day will help your skin get rid of toxins, leaving it fresh and supple.
2. Exfoliate
Exfoliation refers to the process of removing dead skin cells to make way for clearer, healthier skin underneath. It is especially crucial to exfoliate during monsoon to fight germs and remedy pigmented or discolored skin. Remember to exfoliate your entire body, especially spots such as your feet and elbows. Make natural exfoliators with rice powder and water, or by mixing coffee powder and Sunflower oil. However, do not overdo the process, and limit exfoliation to once a week. With consistent use, you will notice reduced wrinkles, an even skin tone, and a more youthful appearance.
3. Avoid Using Synthetic Cosmetics
While makeup is an indispensable part of the lives of most women, it is vital to understand that most makeup products contain chemicals that are harmful to your skin. Do not be so caught up in hiding your natural beauty with makeup, that you forget the worth of your unique brand of beauty. Failure to remove makeup during the rainy season can result in skin allergies and infections. Avoid heavy makeup during this time, and remove it carefully if you indulge in the same.
4. Check Product Labels
Prior to shopping for skin care products, you should look at the ingredients listed on the product label closely. Look for products containing natural ingredients, such as aloe vera, shea butter, jojoba oil, argan oil, etc. as they help clear your skin. It is preferable that you look for products that use organic ingredients, and you can verify the authenticity of the same by checking for approved certifications.
5. Wear Sunscreen
A common misconception is that sunscreens are only beneficial during the summer. During monsoon, the skin is more prone to discoloration and tanning, hence you should protect your skin from UV rays by wearing a sunscreen. Choose one with an optimum SPF, and wear it throughout the day, before you wash it off during your daily skin routine. Water-based sunscreens tend to be the best for your skin and go for ones that contain minerals such as Zinc Oxide and Titanium Dioxide.
6. Eat A Balanced Diet
Eating a balanced diet is something you should incorporate in your lifestyle throughout all seasons. As per dietitians and nutrition experts, low-glycemic diets have proven to be beneficial to acne-prone skin. Reducing the intake of sugar and assimilating nutrient-dense foods in your diet, such as fruits, vegetables, and sources of Omega-3 gives your skin a healthy glow. As your skin is doubly prone to breakouts during monsoon, decrease your dairy intake as much as you can.
7. Use Homemade Face Packs
When it comes to attaining healthy and glowing skin, natural ingredients work the best. Ingredients containing skin-lightening and antibacterial properties, such as honey, yogurt, turmeric, and neem can be used to whip up effective face packs. Fuller's earth and rice powder are wonderful natural remedies for pigmentation and discoloration of skin during monsoon season. After usage, these face packs will leave your skin soft and hydrated. You can also add a splash of rose water to your packs for added benefits.
When following the above tips, you also have to keep your skin type in mind. Your skin-type is inherited and cannot be altered, but it is possible to enhance your skin's inner glow. Those of us with oily skin try to reduce excess oil using harsh cleansers, which often heightens sebum secretion in our skin, making it more oily. Conversely, applying excessive amounts of heavy moisturizers to hydrate dry skin can result in increased dryness. If you upset the pH balance of your skin type repeatedly, it can damage skin, accelerate aging, and cause chronic inflammation. Let us delve into the three skin types in greater detail:
Dry Skin
Dryness in the skin is a result of the loss of hydration and the absence of essential vitamins. Dry skin tends to become more damaged if it is not taken care of, especially during monsoon. In order to take care of dry skin, follow these tips:
Eat foods that have high water content. It will help combat the roughness of skin by flushing out all toxins and ushering in a healthy glow.

Don't forget to moisturize your skin frequently, as hydration will leave your skin soft, beautiful, and moist-looking.

Use naturally hydrating ingredients such as rose water and glycerin to keep skin healthy and glowing.

A proportionate mix of almond powder and honey can repair and remove damaged and dead skin.
Oily Skin
Genetically determined hormonal changes are responsible for oily skin types. While you cannot get rid of the oiliness permanently, you can definitely reduce the secretion of oil by following these steps:
 Wash your face 3-4 times a day to get rid of excess oil from your face. However, be careful as to not to overdo it, as repeated washing might make skin patchy and rough.

Use organic facial scrubs that unclog pores and remove layers of dead skin cells. Chemical-based scrubs are abrasive in nature and injure skin health in the long run.

  Homemade face packs made with besan, rice powder, lemon, and honey are ideal for oily skin and help rejuvenate your skin from within.

 Try using lukewarm water to wash your face as it will help wash off the excess oil stuck to your skin.
Combination Skin
Combination skin is tricky to take care of, as it is a combination of dry and oily skin. Combination skin should be properly cleansed, toned, scrubbed, and moisturized. If you have this skin type, you will probably have an oily T-zone, with patches of dryness in particular areas. Follow these tips to take care of combination skin:
 Make sure to wash your face with a mild face wash 2-3 times on a daily basis.

 Instead of rubbing your face with a towel, just pat it dry with a cotton pad or cloth.

 Alternate between cleansing and moisturizing your skin using

organic skin care products

.

Use products designed for combination skin, and stay away from toxic chemical-based products.

As your hands carry a lot of germs, refrain from touching your face often. Do not pick or squeeze pimples as it will enlarge pores and secrete more oil.
Apart from these skin types, some people have sensitive skin, which easily gets irritated and is prone to allergies and rashes. Using abrasive products and those that are laden with parabens can make sensitive skin reddish and scaly, and facilitate broken capillaries and acne breakouts. Perhaps the most problematic skin type, one needs to take special care of it around the clock.
Be especially careful about dabbling your feet in dirty water, as it can lead to toe infections and other water-borne diseases. Wear shoes and raincoats while in the rain and wading through puddles.
To round things up, it is not enough to take care of your skin only during the rainy season; you should be vigilant about your overall wellbeing throughout the year. Be mindful of all aspects related to health, skin care, and hair care, and savor the beauty of monsoon showers!
Leave a comment