Baby Care
Age-Old Wisdom Of Why A Massage Is Good For Your Baby
Use organic massage oil to properly nourish your baby. Choose oil with goodness of ancient ingredients and free from synthetic fragrances.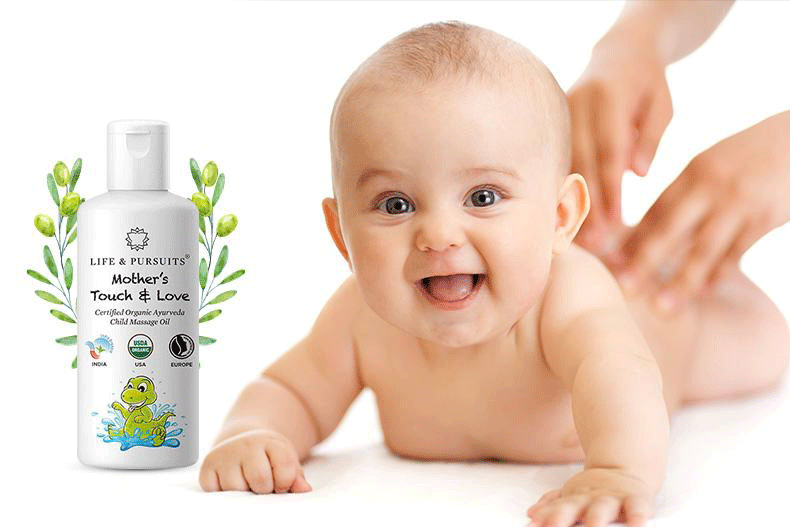 Massaging a baby is a key part of 5000 year old Ayurveda practice; a fundamental ritual of a holistic baby care routine.
Oil Massage: An Ancient Indian Practice
A baby's skin is the largest and the most vital organ, literally the bed where all other senses rest till the time they are developed. This means that the sights, sense, touch, feeling and hearing are symbiotically weaved to the development of the skin.
The skin and hair structure of an infant are also one of the last systems to be developed.
Thus, it becomes imperative for a baby's skin to be nourished and moisturized to ensure a healthy hair and skin.
Elements Of A Massage
Ancient Ayurveda has described the ritual of massage as a step by step process, each part of which plays an important role towards good health and growth of a baby's primary functions.
The Touch
Besides everything else, a massage is fondly the most beautiful way to develop a connection between the mother and the child. It is advised to wait till the time the body of an infant is ready to take the hand movement, which usually takes a month. With every gentle stroke, a mother is creating a bond of faith, vitality and lifelong love with her baby.
The Medium – The Oil
Be sure to use 100% organic massage oils to properly nourish your baby. Choose oil that has natural goodness of ancient ingredients and does not contain mineral oils or synthetic fragrances. Any kind of petroleum-based products can contain toxic contaminants that can harm your baby's soft skin. Ayurveda strongly prescribes Sesame and Coconut oils for the best results.
The Ritual – The Massage
• Use oil at lukewarm temperature.
• Put a towel or sheet under your baby.
• Massage the limbs first then joints and then the abdomen.
• Wrap your baby in a warm cloth for a sound sleep.
The Goodness
• Increased circulation of blood and lymphatic system.
• A natural skin and body detox.
• Stronger immune system.
• Aiding the baby's digestion and bowel movements.
Leave a comment