Skin Care
Extraordinary Benefits of Rose Body Oil You Need to Know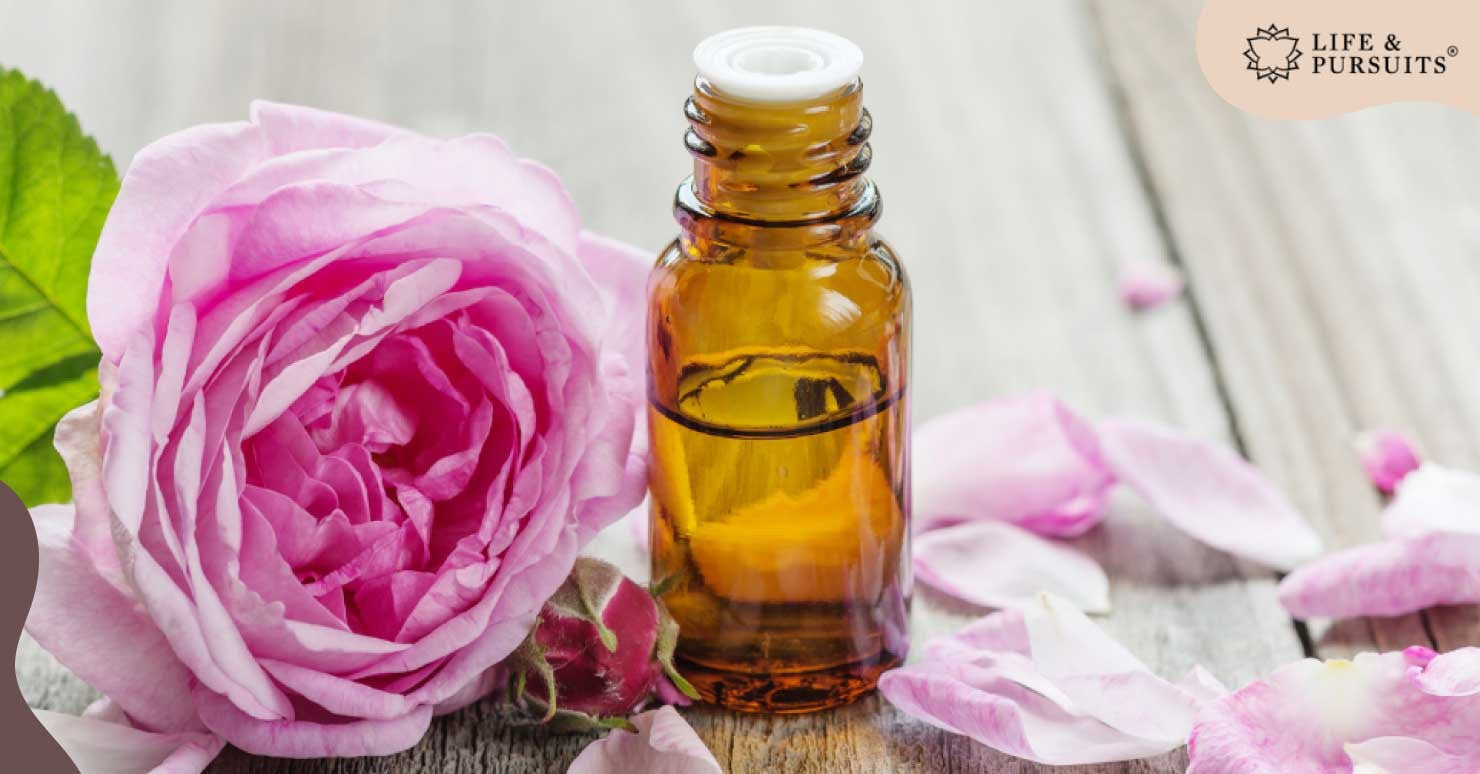 Sensuous, fragrant, and hypnotic—the rose is hands-down one of the most precious gifts from nature! In addition to its spellbinding fragrance and captivating beauty, the rose has numerous other benefits for skin and health. And for this reason, from heavenly attars to luxurious body oils, the rose forms a crucial part of the skin and cosmetic regimes. 
One popular way rose is used in skincare is via rose essential oil or natural rose oil. While there are various categories of rose oil in the market, such as rosehip oil, the Rose Otto is the primmest. 
Best-quality rose petals (not any other parts) are steam-distilled in highly-controlled facilities to extract the elixir-like fluid that is the oil. As a result, a staggering two tonnes of rose petals bear just 33.81 fl. Oz of the oil. Unsurprisingly, it is the most expensive rose oil on the market. 
Once the rose oil is in hand, it could be used in various ways, such as by incorporating it into your daily body lotions, adding a few drops in your shower gel, and even directly on your face and skin, among many other ways. 
We leave it upto you to find the best rose oil you can get. Once you've got it in hand, it's time to know its excellent benefits and incorporate the fantastic elixir into your skincare routine. 
Continue reading to find out the benefits of adding natural rose oil to your skincare regimen. 
Benefits of Rose Body Oil That You Should Know, Believe and Propagate
Extolled for its calming and rejuvenating effects, natural rose oil increases dopamine in the brain and helps to relieve stress and reduce anxiety. 
By stimulating the 'happy hormones' and giving the warm fuzzies, the effect of rose oil is equally visible on the skin as it is internally on the soul:
1. Helps destress 
A whiff of the heady and mystic fragrance is enough to make you unwind and relax after a long week, a month, or a year even—such is the soothing nature of the rose oil. 
An indispensable ingredient in aromatherapy and massages, rose oil does wonders to your skin, nerves, and heart in all the right ways and leaves you wanting more. And thanks to its balming quality, rose oil also helps reduce depressing thoughts and lighten the mood.
Inhaling the aroma of rose essential oil has a restorative, calming action on the nervous system; thus, using rose essential oil (in any form) throughout the day is beneficial for both your mind and your skin.
2. Antibacterial and antifungal 
The essential oil extracted from rose can protect against various strains of bacteria, including e.coli and other microbes. So, massaging a few drops of pure rose oil on the intimate areas can cure and protect you from fungal infections like itching, allergies, etc., apart from leaving lingering fresh notes.     
Note: before directly applying rose essential oil on your skin, we suggest a patch test at least 24-hours before the application to be on the safer side. 
3. Deeply nourishes
Rose essential oil contains over 50 components that are helpful to the skin. Unfortunately, these compounds are impossible to replicate in a laboratory. As a result, fake rose oil (also known as artisan oil) has no skin advantages and smells like roses.
Slathering rose body oil (or body lotions incorporated with it) onto your skin could be the best form of self-care because rose oil provides intense hydration and deep nutrition. In addition, it leaves your skin fresh-looking, supple and fragrant for a long time. 
4. Repairs and replenishes skin 
Natural rose oil is loaded with antioxidants and keratinocytes – the cells that protect skin from UV rays, harmful pollutants, and bacteria – natural rose oil helps improve and balance skin texture. 
As a result, rose oil helps with intense repair and rapid skin healing. In addition, rose oil also heals pregnancy scars, stretch marks, acne, and pox marks. 
5. Delivers glowy, smooth skin
Dousing yourself in rose oil every day would make your skin super smooth and dewy and keep you active and charged with its fragrance. 
Roses have the perfect amount of allure and appeal, making them ideal for a fragrant oil bath, foot bath, and a spa splurge, resulting in a toned, silky and shining skin. 
6. Effective daily moisturizing
 Adding a few dashes of rose oil to your daily moisturizer or mixing rose oil with a few splashes of your favorite bath oils would make your skin plump and well moisturized. 
Rose has superb cooling properties that make it ideal for fighting dryness and parching. Coupled with antibacterial properties, rose essential oil offers a wealth of goodness for skin health and elasticity. Add it to your favorite toner or micellar water, and use it throughout the day for added benefits of the oil on your skin. 
Body Oils by Life & Pursuits - For the Love Your Skin Deserves 
Organic body oils by Life & Pursuits are all your favorite things bottled in a pack because they're immensely moisturizing, nourishing, exfoliating, and replenishing all-in-ones. 
Made from 97% organic ingredients and subject to natural processes, these body oils are a fine example of nature's best offerings and how they soothe, nourish, and tone your skin like no other. 
Toxin-free and mostly chemical-free body oils by Life & Pursuits are worth every penny because they contain highly-effective ingredients that have therapeutic effects blended according to the ancient science of Ayurveda to unfold magic on the skin. 
All the products are certified by USDA Organic and NATRUE, two of the most stringent organic certifications for skincare and cosmetic products, thus ensuring that the ingredients used are free from harmful chemicals and synthetic colors. 
Specializing in skincare, haircare, and baby care, body oils by Life & Pursuits have a soothing, restorative, and balancing effect on the body, making it healthy and strong, inside and out. 
Organic Bhringraj Oil, Organic Amla Brahmi Hairoil, and Organic cold-pressed sesame oil by Life and Pursuits are a few of the best oils in the hair care segment. 
A nutritious blend of ancient herbs like the Mahabhringraj, amla, and sesame seeds—these oils are naturally processed to their highest efficacy. 
Applying a handful of these oils standalone or mixing it with other hydrants like aloe vera or henna as a hair pack would nurture your hair root to tip and promote healthy hair growth.    
The skincare range is magnificent, too: with incredible oils like Organic Turmeric Body Oil and Organic Stretch Marks Oil. These body oils are a unique blend of highly effective oils like Almond, Jojoba, Moringa, Coconut, and Argan, coupled with turmeric and other herbal extracts, making them ideal for a rejuvenating body massage experience. 
Almond Baby Massage Oil and Organic Diaper Rash Cream are the stars of the babycare range. Organically made and naturally processed, these are ideal for your baby's skin health and provide deep nourishment. 
The goodness of almonds combined with the vitamins and antioxidants from carrier oils like sunflower, sesame, and coconut oil, almond body massage oil is one of the safest body oils for babies.  
For an unforgettable self-care experience, dab a few drops of rose body oil and start splurging on the skincare range by Life and Pursuits. 




Leave a comment