Skin Care
THE HARMFUL EFFECTS OF HARSH BABY BATH PRODUCTS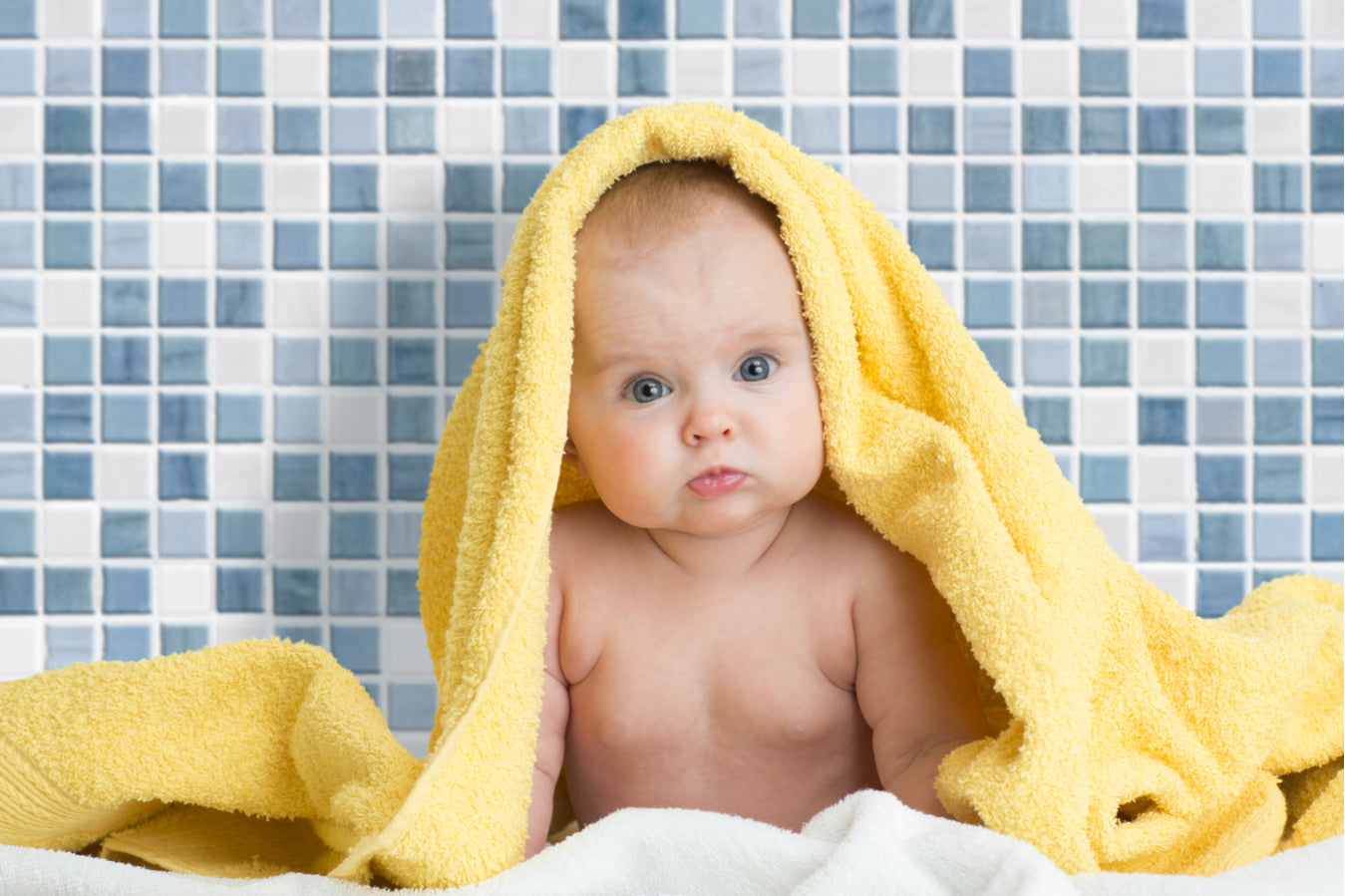 Absence of a developed skin barrier makes baby skin more delicate and sensitive, making their skin more prone to rashes, allergies, and other reactions when it comes in contact with surfaces that harbor bacteria. According to the Mustela research program, baby skin does not hold the ability to retain appropriate levels of moisture. It also has an extremely fragile reserve of stem cells until age 2, post which, it grants the skin with regenerative qualities. This hypersensitivity is heightened during bathtime, as the usage of harsh baby bath products causes major damage to the skin. While some natural factors, such as friction with diapers and exposure to fluctuating weather cannot be helped, one can definitely shield baby's skin from harmful bathing products.
Why Are Most Mainstream Baby Bath Products Harmful?
Most mainstream baby bath products contain a host of harmful ingredients that penetrate layers of sensitive baby skin. As per a survey by the Environmental Working Group (EWG), children are exposed to more than 27 kinds of potentially damaging chemicals and toxins through the use of commercial baby care products alone. While sifting through the aisles of baby products, one must look for natural, organic, and safe alternatives to preserve the beauty and vulnerability of baby skin. Here is a list of some toxic offenders that are found generally in baby powders, lotions, soaps, and shampoos.

1. Synthetic Fragrance
Underneath the lovely smell of commercial baby lotions, there can be a host of harmful chemicals derived from coal and petroleum, which can be linked to allergies, skin irritation and inflammation, and eczema, among other problems. Hence, always opt for baby care products that have a natural aroma and are made with completely natural ingredients.
2. Parabens
Parabens are a group of chemicals used as preservatives in personal care products, such as baby shampoos, lotions, adult moisturizers, etc. According to a research report by the National Center for Biotechnology Information (NCBI), parabens can cause skin allergies and endocrine disruption when used for an extended amount of time. Parabens have also been connected with asthma and cancer. To avoid parabens, opt for organic baby products that are certified by international accreditations, such as USDA AND NATRUE.
3. Formaldehyde and related preservatives
Formaldehyde is a common preservative added to water-based products, such as body washes, to prevent mold formation. As it is a human carcinogen that can cause allergic reactions, along with headache and nausea, one must avoid baby bath products that contain formaldehyde, as it can damage baby skin in irreparable ways.
4. Mineral Oil
Mainstream and non-organic baby oils and lotions are made with a combination of mineral oils and other petroleum-derived ingredients. Mineral oil is a cheap by-product of petroleum processing, which inhibits the skin's natural ability to release toxins. You can use natural oils, such as Olive, Coconut, and Sesame Oil to massage your baby before bath, or use an organic baby oil made with these ingredients. This will not only provide your baby's skin with much-needed nourishment but also help preserve the softness and loveliness of their skin.
Apart from avoiding the above-mentioned toxic ingredients, stay away from harsh baby soaps. Use a gentle and nourishing organic baby body wash, replete with natural ingredients, such as Aloe Vera, Jojoba Oil, Vanilla Oil, and Orange Oil. Also, go for mild baby bath products that have a pH balanced, non-biodegradable formula and a natural, fruit-like aroma. Always make sure that you read the list of ingredients on the product label and stick to natural and organic ingredients, as they are safe and effective in the long run and will not disrupt the skin's natural barrier. As a general rule of thumb, avoid scrubbing your baby's skin vigorously and use lukewarm bath water to prevent dryness and skin damage.
Shield your little one from harmful toxins, and ensure a toxin-free existence for the generations to come!
Leave a comment