Organic
10 ESSENTIAL AYURVEDIC HERBS FOR ENSURING WINTER WELLNESS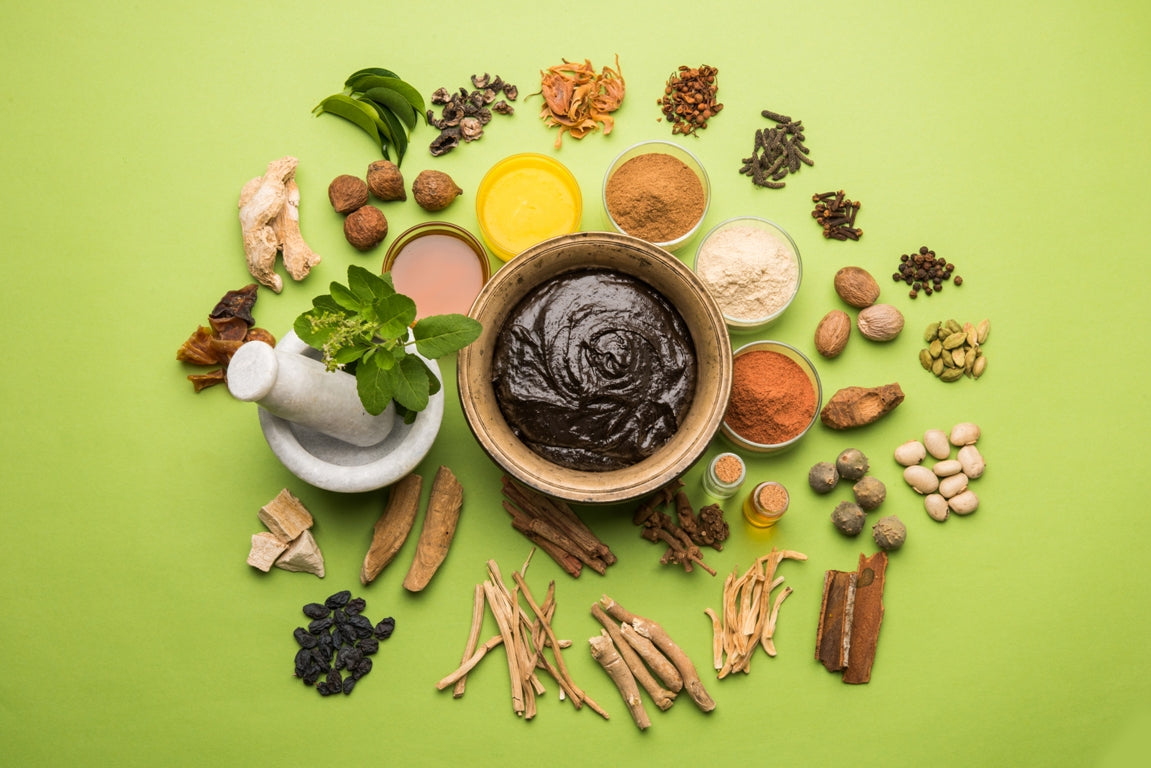 Ancient Ayurveda viewed herbs as the spiritual essence of plants that carry cosmic intelligence and healing vibrations within their cells. Human beings and plants have always had a deep connection and an interdependent relationship since the dawn of mankind. A herbal, plant-based medicinal system has been an important part of Ayurveda for at least 5,000 years. It has been testified by Vedic sages who compiled and classified the healing properties of a host of Ayurvedic herbs.

Today, it has become more than necessary to incorporate some of these Ayurvedic herbs in our lives, in the form of natural medicine or organic skin care products. Since winter has announced its arrival, it is vital to protect our immune systems from winter ailments and reinvigorate our skincare routines with Ayurvedic herbs that benefit the mind, body, and spirit. Here is a list of 10 Ayurvedic herbs that are indispensable to winter wellness and keeping winter woes at bay.
1. Manjistha
Known as a blood purifier, Manjistha has anti-inflammatory properties and helps clear acne. Extreme winter weather can trigger skin inflammation and acne, which can be remedied with the help of a natural skin care product containing Manjistha. This medicinal herb also detoxifies the liver and regulates liver and kidney functionality. You can ingest Manjistha with warm milk before going to bed. To treat pigmentation and acne, you can mix powdered Manjistha with honey or yogurt and leave it on as a mask for 10-15 minutes. This will rejuvenate your skin and grant it a healthy glow. Due to its ability to hydrate, revitalize and nourish the skin, Manjistha is a key ingredient in the Life & Pursuits Daily Moisturizing Lotion which is an effective skin moisturizer and is suitable for all skin types.
2. Ginger
A wonderful stimulating herb, ginger helps boost immunity, fights allergies, lowers cholesterol, aids digestion, fights nausea, and imparts warmth during the winter. Ginger is a sialagogue herb - it helps you salivate better, which in turn, aids in breaking down food in the first stage of digestion. Raw ginger can boost blood circulation and relieve fever caused by colds, flu, and infections. You can ingest ginger in tea and also add a strong infusion to your bath water to keep yourself warm during winters.
3. Tulsi
Tulsi or the Holy Basil (Ocimum sanctum)is a common herb used in Indian households. Tulsi has the ability to cure ailments, fevers, and common cold. It contains anti-asthmatic and anti-infective properties and is recommended for building respiratory resistance. Packed with linoleic acid, this plant can also treat a host of hair and skin-related issues, including lackluster hair and acne. Due to its adaptogenic properties, Tulsi is beneficial for those suffering from adrenal fatigue. You can ingest a mixture of Tulsi, honey and a few slivers of ginger to keep infections at bay.
4. Sesame
Sesame seeds can be incorporated into various winter recipes. They have medicinal and antioxidant properties that improve digestion, boost immunity and promote beautiful skin. They contain healthy fats, Omega-6, fiber, iron, calcium, magnesium and phosphorus that helps boost energy levels. Ayurveda has proclaimed Sesame oil as a medicine for a range of ailments: it helps deal with stress, relieves muscular pain and improves sleep cycles. Sesame oil is especially effective during winter due to the warm sensation and nourishment it imparts. If you have cold hands and feet during winter, massage them with Sesame oil and witness immediate warmth and increased circulation. The Organic Bhringraj Scalp Therapy Hair Oil contains Sesame oil and is a strong defense against a myriad of hair woes.
5. Ashwagandha
Known as one of the best anti-aging herbs, Ashwagandha boosts vitality as it relieves stress, fatigue, and anxiety. A warm, anti-inflammatory herb, it provides nourishment to tissues and reduces pain and swelling in the body. Apart from granting physical and mental relaxation, Ashwagandha increases digestive fire and improves appetite. It is also effective in alleviating cough and cold and can be ingested with warm milk and ghee. In tablet form, Ashwagandha is effective against gynecological ailments. Ashwagandha also works wonders on sensitive baby skin, as it leaves it soft and supple. Our Organic Baby Massage Oil contains this wonder herb and aids in providing growth and nourishment to your baby's bones and muscles.
6. Aloe Vera
Aloe Vera has been known for its healing properties for at least the past 6,000 years. Packed with essential antioxidants such as and vitamins A, C, and E, Aloe Vera is known for its anti-inflammatory and skin-repairing properties. It can also be used to combat dry scalp and dandruff during winters and acts a natural hydrating and exfoliating agent. This wonder herb can also be used as a natural conditioner -  just apply organic aloe vera gel on your hair roots in the same way you use a regular conditioner, and leave it in for 20 minutes; rinse and wash off. If you wish to use it in the form of a mask, apply a mixture of aloe vera and olive oil on your face, and wash off after 20 minutes. You will witness an instant glow! You can also create a mild facial scrub with aloe vera to expel dead skin cells and lock in moisture.
7. Neem
The health benefits of Margosa leaves have been well-known since many a millennium. A powerful blood purifier, Neem is effective for combating acne, skin diseases, pigmentation, and treating infected wounds. A wonderful herb that can be used all year round, Neem oil can be used during winters in to treat joint and muscle pain. Skin care products containing Neem are useful against acne and discoloration, and Neem leaves can treat diabetes, liver problems, and skin ulcers.
8. Turmeric
Turmeric is known for a host of medicinal benefits - it purifies the blood, improves complexion and has anti-inflammatory properties that can treat acne-prone skin. A balancing herb, Turmeric should be incorporated into our daily lives, especially during the winter - add 1 tablespoon while sauteing vegetables or add a pinch to warm milk and drink it at bedtime. This helps boost immunity and relieves you from respiratory problems. Due to their healing and antibacterial properties, both Neem and Turmeric are essential active ingredients in our Organic Diaper Rash Cream, which, like all our products, is completely free of toxins and parabens.
9. Fenugreek 
A herb used both for culinary and medicinal purposes, fenugreek (methi) seeds and leaves offer versatile benefits for the human body. Fenugreek helps reduce inflammation levels and provides relief from chronic cough, boils, bronchitis and other ailments that are prevalent during winter. It can also help deal with acute body ache, kidney ailments and swelling in the lymph nodes. Due to its high fiber content, fenugreek can help regulate insulin levels and aid those with Type 1 and Type 2 diabetes. You can add a few fenugreek seeds to a glass of water and allow it to soak for a while. Drinking this methi water will strengthen your digestive system and reduce gastritis and bloating.
10. Nutmeg Oil
Nutmeg is an excellent herb for skin care due to its anti-microbial and anti-inflammatory properties. Nutmeg can remove blackheads and treat acne and clogged pores - you can mix Nutmeg oil with Honey, and apply it to the affected areas. You can also make a paste of nutmeg powder with milk and massage it into your skin before rinsing it with warm water. One can also use it as a natural scrub along with Oatmeal and Orange peel powder. Also, Nutmeg oil can treat muscle inflammation and chronic insomnia. Nutmeg oil is an active ingredient in our Organic Chest Rub, which relieves chest and nasal congestions in babies that are 6 months or older.
Incorporate these Ayurvedic herbs into your daily routine to keep winter woes at bay. Embrace winter wellness for a more healthy and fulfilling existence!
You Can Also Watch This YouTube Video About

Winter Wellness

:
Leave a comment