Baby Care
8 BABY COUGH REMEDIES USING EVERYDAY KITCHEN INGREDIENTS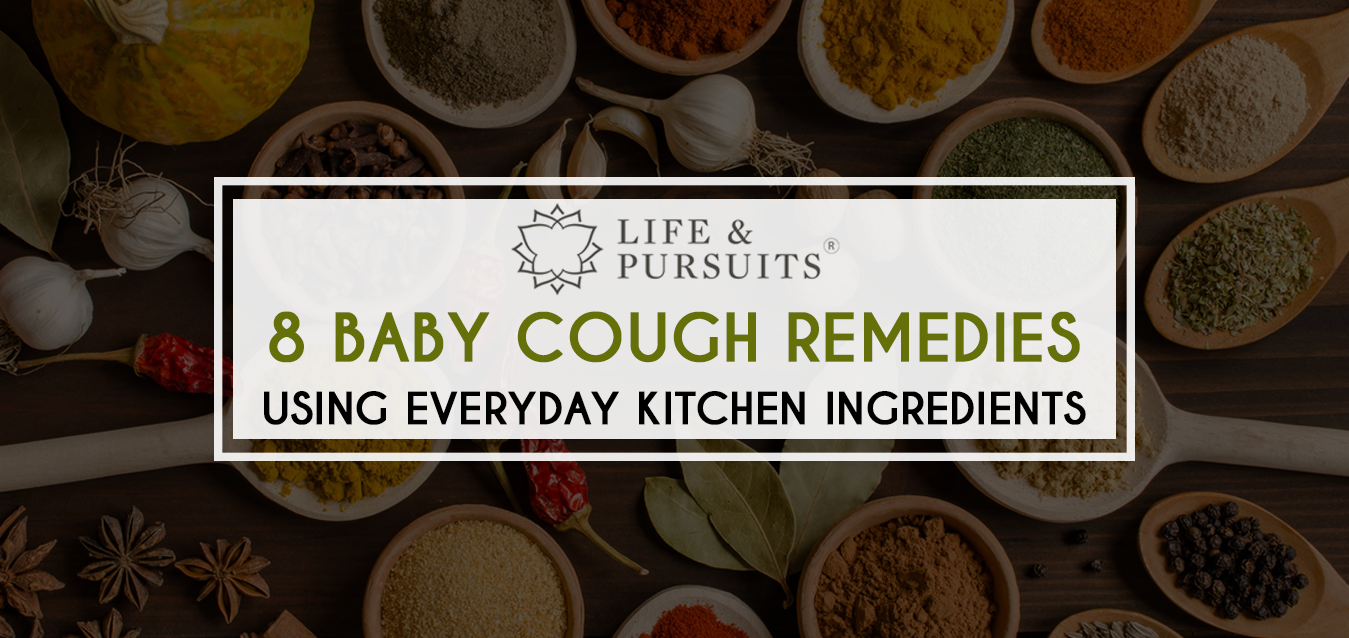 Coughs and common colds are recurrent among babies as their immune systems are weak and in the process of continuous development. As parents, we tend to get worried when our little one exhibits symptoms like sneezing, nasal congestion, mucus formation, sore throat, restlessness and loss of appetite, especially during winters. While it is difficult for you to see your child in discomfort, it is essential to avoid medicines for cold in babies as much as possible. Medicines can have long-term side-effects and prove to be detrimental for your child's wellbeing. On the other hand, an Indian kitchen is akin to a natural pharmacy, as it contains herbs and condiments that can impart relief for common ailments. While most home remedies are completely safe and harbor no side effects for your little one, it is always best to consult a pediatrician before administering these remedies.
Here are a few safe and effective baby cough remedies that one can easily whip up using everyday kitchen ingredients:
1. Garlic & Carom Seeds
Both garlic and carom seeds possess antiviral and antibacterial properties. Combined together, it is a powerful weapon against cough and cold, as it helps relieve congestion. A warm cloth pouch or potli can be used as a chest compress to help your baby breathe better.
Take 2 cloves of garlic and 1 tablespoon of carom seeds, and roast them lightly. After they cool down a little, place them inside a soft muslin cloth and tie it up to form a small pouch or potli. Place the cooled-down pouch near your baby's bed. The wafting aroma of garlic and carom will help clear chest and nasal congestion. You can also press the pouch gently on your baby's chest to impart relief from coughing.
2. Warm Herbal Rub
A natural, herbal chest rub can be easily prepared with mustard oil, carom seeds and garlic to provide relief from dry coughing. Mustard oil is especially effective during winter as it keeps the body warm. The antibacterial properties of garlic and carom seeds help in clearing chest and nasal blockage.
All you have to do is, heat ¼ cup of mustard oil in a pan, add 2 garlic cloves and half a teaspoon of carom seeds. Once it starts turning a brownish hue, turn the heat off and allow it to cool for 1-2 minutes in order to make sure that the mixture is not too hot as it might scald your baby's sensitive skin. Apply this warm rub on your baby's chest and feet. This will allow your child to stay warm and sleep better.
3. Nutmeg & Warm Milk
Nutmeg (jaiphal) is a warm spice that is being used for centuries to boost the flavors in sweet and savory items. When it comes to combating cough and cold in babies, nutmeg has strong antibacterial properties that help boost your child's immune system. It also helps in building a healthy appetite for your child.
Add a teaspoon of nutmeg powder to a glass of warm milk along with a few drops of honey and a pinch of cardamom powder. This warm mixture can be given to babies who are at least 6 months of age. For younger babies, rub a piece of nutmeg on a grinding stone and mix it with 2 teaspoons of cow milk. Apply this paste on your child's forehead and wipe it off after a while.
4. Tulsi & Coconut Oil
This homemade remedy is extremely effective for dry cough in babies due to the wonders of coconut oil and the healing properties of tulsi. Tulsi contains antiviral, antibacterial, and antibiotic properties that help cure fevers, throat infections, flu and congestions. Take ¼ cup of organic coconut oil and warm it for a while. Add crushed tulsi leaves to the oil, and apply the cooled-down mixture on your baby's chest, back, throat and feet.
5. Honey
Mothers have been using honey as a natural cough syrup to treat cough in babies for a long time. According to WebMD, honey works better than most medicines and cough syrups due to its anti-inflammatory and antioxidant properties. Honey suppresses cold by fighting germs and boosting energy and immunity levels.
Honey should only be administered to children above 6 months of age. You can give them half a tablespoon of pure raw honey or dilute it with a few drops of lemon juice and a glass of warm water. This concoction will keep coughing fits at bay and help thin mucus with the help of antimicrobial agents naturally present in honey.
6. Mulethi
The antibacterial and anti-inflammatory properties in Mulethi (licorice) can help combat cough and cold at the same time. It also imparts a soothing sensation in the chest. If your child is above 8 months, you can give them a piece of Mulethi that they can keep inside their mouth for some time. For smaller children, a safer method would be to boil Mulethi in water and once it cools down, feed this concoction slowly to your child.
7. Saffron & Warm Milk
Saffron (Kesar) is a beneficial ingredient that is useful as a tonic for cough and cold. Saffron is enriched with essential nutrients and is also loaded with antioxidant properties. Apart from curing fevers and congestions, saffron can also be beneficial for the skin.
Add a few strands of saffron in a glass of warm milk. Give this drink to babies who are a year old or above. For toddlers, add 2-3 teaspoons of milk to saffron and make a paste. Smear it on your child's forehead, nose, chest and feet.
8. Mint & Ginger Cough Syrup
An excellent natural and effective cough syrup for infants, when administered together, mint and ginger can help cure cold in a quick and effective manner.
In a pan filled with water, add ginger and mint leaves and boil it for 5 minutes. Take it off the flames and refrigerate the contents after straining the water. It will attain a syrup-like texture. Bring it to room temperature and give one teaspoon to your baby before they go to sleep.
These home remedies, coupled with a healthy diet and a safe, hygienic environment will help you keep the winter woes away from your child. While these home remedies ensure general wellness of your child, please consult a medical practitioner in case of prolonged illness.To ensure that your child does not fall prey to cough and cold easily, make sure they remain germ-free. Wash their hands before every meal; keep them away from crowded places and icy winter winds, and keep them as warm as possible. Thus, protect your child with these natural means and watch your little one smile and prosper!
You Can Also Watch This YouTube Video About

Baby Cough Remedies

:
Leave a comment