Baby Care
HOW SAFE IS VAPOR RUB - DOES IT CONTAIN HARMFUL TOXINS?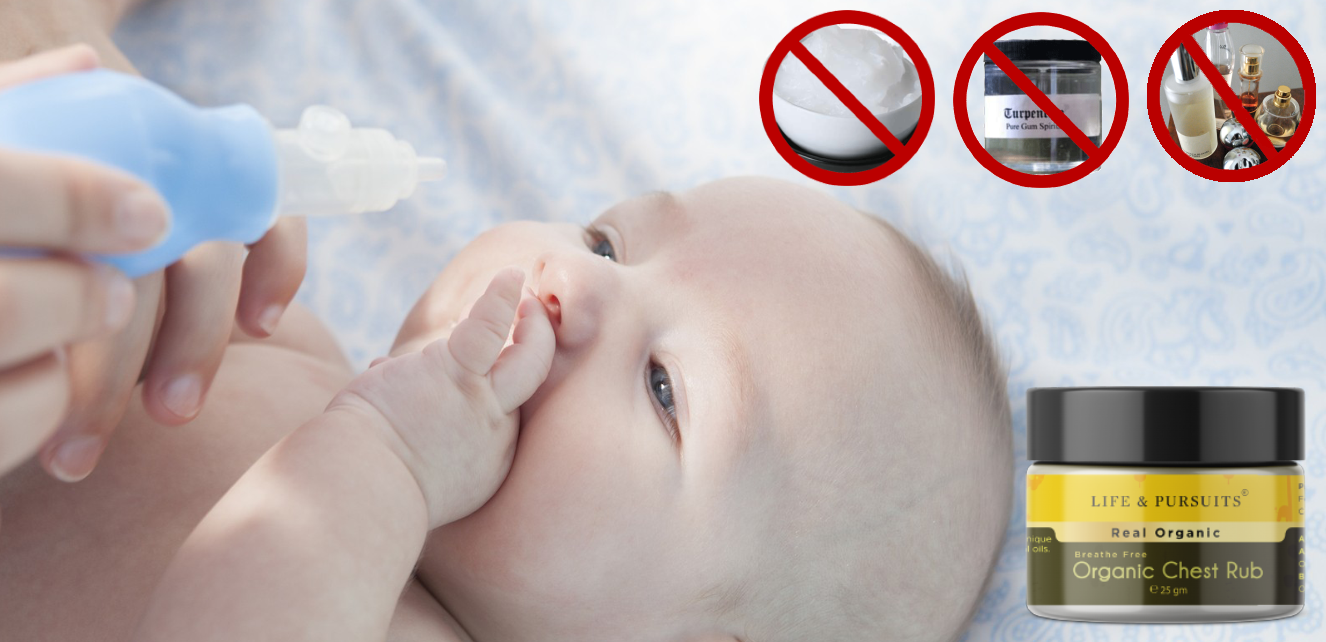 As the autumn boulevards overflow with dried leaves, winter arrives gently, bringing icy winds and fog-filled mornings along with it. However, the loveliness of winter is accompanied by incessant coughing, sneezing, and congested nasal cavities. As a result, we end up slathering vapor rubs on our chests and under our noses in an attempt to experience warmth and relief. Vapor rubs are counted among the most common baby cough remedies; however, we need to delve deeper and ask - How safe is vapor rub? Does it contain potentially harmful ingredients? What are the alternatives to the same?
Most vapor rubs available in the market contain toxic ingredients that are detrimental to health and safety in the long run. In order to maximize profits, companies market these products as 'safe' and 'natural', even going to the extent of claiming that vapor rubs can be used on babies less than 6 months of age. According to a medical survey carried out in 2013[1], babies might experience respiratory distress after using such vapor rubs, as a result of excessive mucus formation due to the irritants present in the product. Here are some toxic ingredients present in most vapor rubs:
Petroleum Jelly
Petroleum jelly /LLP is a product that is not sustainable in nature. Environmental concerns aside, petroleum jelly can have harmful effects when inhaled directly and applied on the skin. Mineral oils tend to create barriers on the skin, that lock in bacteria and toxins, which might lead to skin irritation. Inhaling fat-based substances like petroleum jelly for prolonged periods can also cause lung problems.
Turpentine Oil
Turpentine Oil is an aromatic oil extracted from various parts of the pine tree. Although considered a natural ingredient, it carries the risk of poisoning, if used incorrectly. The vapor emanating from turpentine oil can cause damage to the lungs and the respiratory system, and irritate areas around the eyes and other sensitive body parts. If accidentally ingested, it can cause intense burning sensations, breathing difficulties, internal hemorrhage, and renal failure. Moreover, as turpentine can cause bronchial spasms in people with asthma, and whooping cough, it can worsen breathing issues when inhaled or rubbed under the nose.
Synthetic Essential Oils
Synthetic essential oils represent an unidentified mixture of ingredients including carcinogens, allergens, respiratory irritants, endocrine disruptors, neurotoxic chemicals, and environmental toxicants. Artificial fragrances can cause skin, eye, and lung irritation, along with organ toxicity and endocrine disruption. Most vapor rubs contain synthetic fragrances that can cause serious harm, especially to babies who inhale it directly.
So, what can we use instead of deadly vapor rubs? It is best to use an organic cold balm or chest rub that is made with safe, natural ingredients and is free of turpentine oil, menthol, petroleum jelly, and artificial fragrances, along with parabens and mineral oils. An organic chest rub also provides considerable relief in the case of a cold, cough, and fever. Oils like eucalyptus, peppermint, tulsi, and nutmeg help soothe nasal congestion; hence check for these ingredients on the product label. Make sure to check whether the product is certified organic by reputed international agencies, as it is a testimony of transparency and authenticity.
To sum up, combat colds and chest congestions with the help of an organic chest rub that is safe and effective at the same time. Also, don't forget to relish the beauty of winter while it lasts!
[1]
National Library of Medicine, Maryland
Leave a comment