Skin Care
Troubled by Dry Skin_ Try These Body Oils For a Dazzling Glow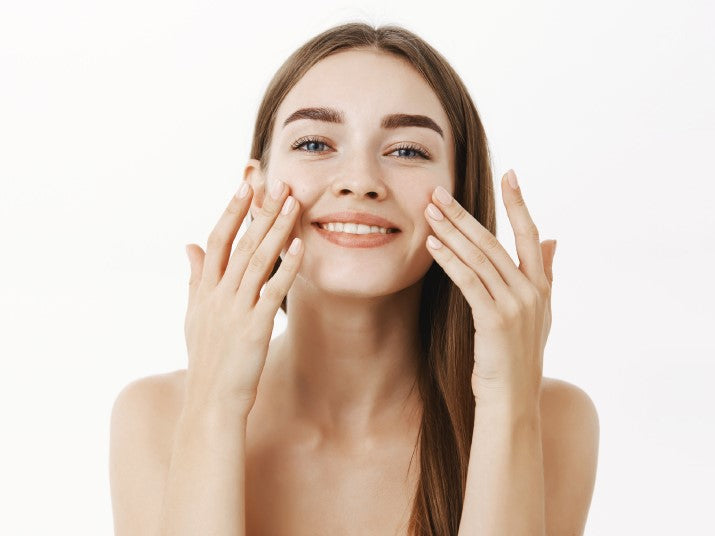 Skincare during winter could be challenging for many because dryness and dullness are hard to tackle, and skincare is different for different skin types. Flaky, itchy, and inflamed skin could jeopardize your daily comfort and scream your skin is under a dry spell.  
Sure, you can pop into your nearest Walmart and grab a bottle of branded moisturizer. But commercial moisturizers may also come with artificial fragrances, colors, and preservatives that you'd want to avoid. But that would not be the case with organic-certified and cold-pressed oils. 
Therefore, your skin needs something packed with nutrients that nourish your skin up to deep within. Yes, body oils. We'll discuss why body oils should be a winter skincare staple and five of the best body oils for dry skin. 
Body Oil – Why It Makes Skin So Soft and Supple?
 
Body oils help retain the moisture for a longer duration than moisturizers (especially in the harsh Northern hemisphere cold) and give off a dewy, glowy look when used correctly. 
Have you ever wondered why your skin feels amazingly soft and smooth after applying natural oil? That is because natural oils mimic skin's inherent lipids (serums) and hence sink deep into the cellular level to fill the cellular gaps and create a seamless surface on the skin – the result, silky smooth finish of the skin surface. 
A word of caution, though: if you frequently break out on your shoulders or back, lotion may be a better choice, as oils can exacerbate body acne. 
If you must use an oil, experts suggest opting for tea tree, coconut, or lavender oils, which are mild enough to prevent breakouts.
Now, whatever oil you choose, applying them to combat skin dryness is a certain way. Experts suggest always applying the body oil of your choice during bath when your skin is still damp. 
Five Best Body Oil For Dry Skin - A Dream Come True 
Now that you know the biggest superpower of natural oils, here, listed below, are five of the best body oils for dry skin to help you choose the right oil for your skin type.
1. Coconut oil
Coconut oil offers a multitude of benefits for hair and skin. Mainly composed of medium-chain fatty acids (65%), humble coconut oil has antimicrobial and anti-oxidative properties that protect the skin against harmful bacteria and even help treat acne. 
Organic Virgin Coconut oil, apart from protecting the skin from microbes, strengthens the skin's barrier against the environment and keeps it hydrated. Cold-pressed coconut oils are lightweight with cooling and anti-inflammatory properties that tackle dryness and enhance skin texture and softness. 
2. Jojoba oil
Packed with antioxidants, Vitamins A and E, and Omega-6 fatty acids, jojoba (pronounced: jo-ho-ba) oil has the same molecular structure as sebum, the substance naturally produced by our skin. It is easily one of the best body oil for dry skin. 
Applying jojoba oil would balance out the sebum secretion by providing adequate moisture where it is lacking, thus resulting in smooth, hydrated, and healthy skin. 
Being on the slightly heavier side (it is technically a wax), jojoba oil is also effective in treating eczema and other skin-related infections because of its antimicrobial properties that help repair skin damage.  
3. Argan Oil 
Extracted from the Moroccan Argan trees, Argan Oil is rich in Vitamin E and antioxidants that soothe and nourish the skin. Often added on soaps, moisturizers, and lotions, Argan oil locks in the moisture and gives the skin a healthy glow. In case of excessive oiliness, Argan oil balances the oiliness by reducing sebum secretion.  
Regular application is also reported to treat stretch marks and improve skin elasticity. 
4. Organic Turmeric Oil 
Organic Turmeric Body Oil by Life & Pursuits is the best body oil for dry skin because it is a healthy blend of turmeric and other powerful natural oils like coconut, argan, and various other nutritional oils that make the skin supple, silky, and dazzling without the greasy after-feel and heaviness.
Made of 97%+ certified organic ingredients, Life & Pursuits, Organic Turmeric Body Oil nourishes the skin and provides deep nourishing. It also contains extracts of Mulethi and Green Tea which give a calming effect on the skin, and actives like Turmeric, Gotu Kola, Manjistha, Ashwagandha, and Amla improve collagen production, hydration, and overall skin health. Available on sale on our website and Amazon.com, Organic Turmeric Body Oil is priced at $9.99.  
5. Sunflower seed oil
Sunflower oil has a high linoleic acid content of 68%, which provides moisture and makes the skin plump and supple. Sunflower oil also helps fend off harmful UV rays and improves skin integrity and strength. 
By enhancing the production of natural fats and keratinocytes - cells that make up the epidermis, sunflower oil improves the moisture content and, therefore, is an excellent choice for dry skin. 
The high oleic acid content of 82% in sunflower oil helps with moisture retention and prevents premature aging. 
Body Oils by Life & Pursuits
In addition to nourishing the skin, body oils are also effective in treating (and preventing) other skin issues and infections because of their antibacterial and antifungal properties and vitamin-rich composition.
However, these body oils are effective only when prepared with organic ingredients and natural processes. At Life&Pursuits, we call ourselves 'People Against Toxins' since we are on a mission to raise public awareness about the dangers of toxic chemicals and toxins found in daily products. 
All our products from skincare and haircare to baby care are well-researched, prepared with toxin-free ingredients with USDA and NATRUE certification – two of the world's most stringent quality controls. 
All the products are made of carefully handpicked ingredients that are skin-friendly and organically processed to retain maximum goodness and efficacy.   
Put your skincare worries to rest by trying our all-natural range of body oil for that healthy, supple skin and dazzling glow. 
Take a look at our online shop for other organic skincare and haircare essentials.
Leave a comment