Skin Care
Try These 6 Body Oils For Women to Get Baby-Like Soft And Plump Skin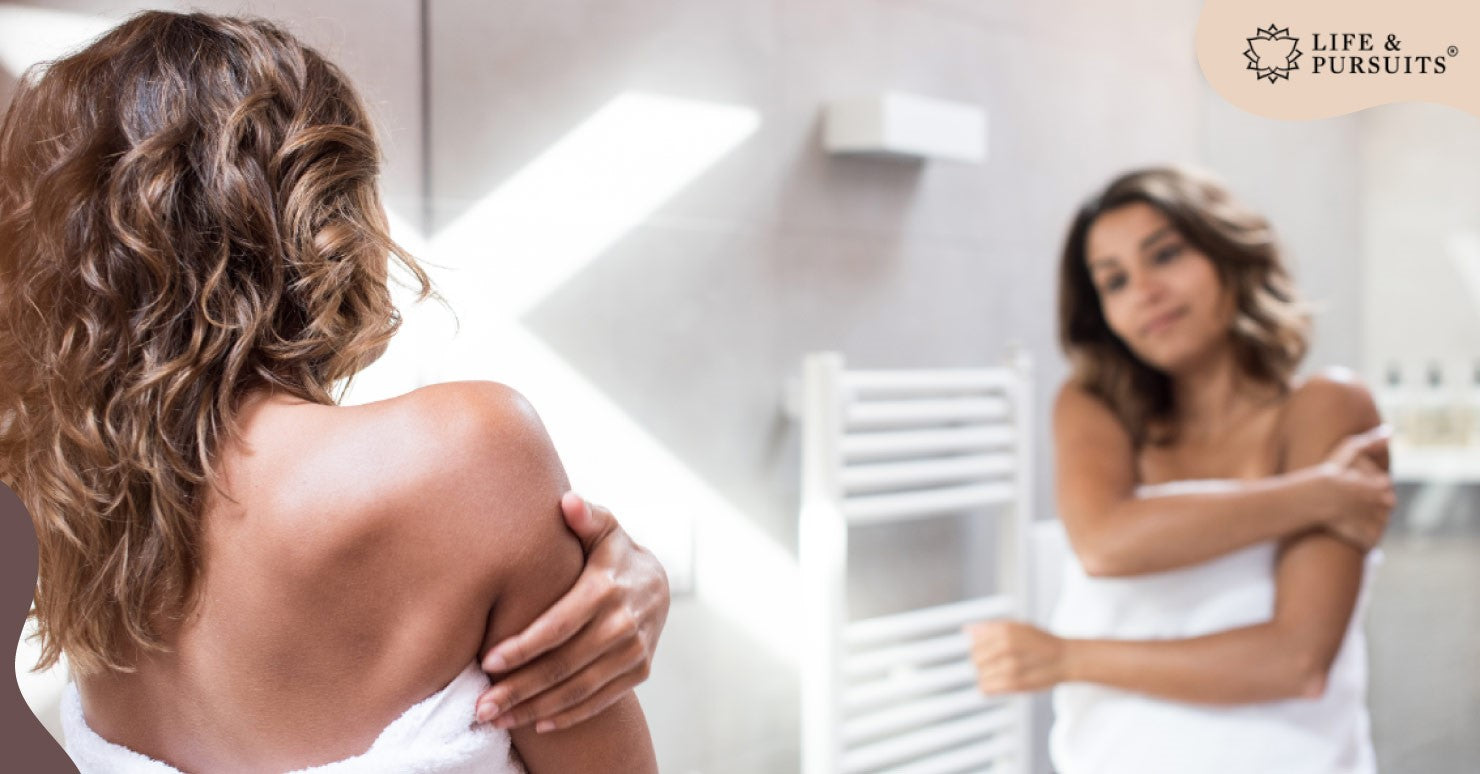 You know the feeling when you step out of the shower, and your skin is still damp? And then you reach for your towel, and it's like sandpaper on your skin? We've all been there.
Oils have gotten a bad rap in the beauty world for being greasy and clogging pores. But what if we told you that there are some oils that can do your skin a whole lot of good? The range of body oils for women from Life & Pursuits can leave your skin feeling luxuriously soft and supple.
Body Oils For Women 
Body oils are a great way to moisturize the skin and many women swear by them. Still, there are some common misconceptions that have kept them in the dark.
Common Myths:
Body Oils Can Stain The Clothes And Sheets
The first myth about body oils for women is that they leave stains. But the truth is, good-quality body oils will get absorbed into your skin and leave very little room for stains.
Body Oils Make The Skin Look Ashy
A lot of women are afraid of using body oils because they don't want their bodies to look ashy. The best body oils for women will prevent this problem. It will also improve your skin's radiance. 
Body Oils Can Stink
Body oils are infused with other fragrant oils, therefore they don't stink. They are scented with the aroma of specific herbs and flowers that have benefits like relieving stress and enhancing the mood.
Possible Benefits Of Body Oils
Suitable For Summer
Body oils are an excellent choice for the warmer months when you are more likely to be exposed to the sun. They are not as heavy as creams and lotions, and they penetrate deep into the skin to keep it moisturized.
Locking In Moisture
One of the main benefits of body oils is that they lock in moisture. They don't draw moisture into the skin. Instead, they seal in the moisture already present on your skin.
Prevents Drying Of The Skin
Another benefit of body oils for women is that they rehydrate the skin, preventing it from drying out in the heat. By adding a few drops to your regular moisturizer, you can feel the difference right away. Body oils can also prevent premature wrinkles.
The Top 6 Body Oils From Life & Pursuits 
Here's a list of some of the best body oils that can do wonders for your skin:
Lavender Body Oil 
Suitable For – Normal To Dry Skin
The Lavender Body Oil From Life & Pursuits is a mixture of some cold-pressed organic oils like sesame oil, sunflower oil, argan oil, jojoba oil, and natural Vitamin Ea few rich ingredients like tocopherol to delight your senses and give a feeling of ecstasy. These oils moisturize your skin's thirst and help develop skin tissues. It also helps repair sun damage. This oil is suitable for normal to dry skin types and is free of toxic chemicals.
Buy Now - Lavender Body Oil 
Organic Vitamin E Oil 
Suitable For – Dry Skin
Made from natural d-alpha Tocopherol (Vitamin E) and blend of oils rich in Vitamin E like  extracts of sunflower, coconut, almond, and other natural plants rich in Vitamin E, this body oil is the ideal one for moisturizing your skin, hair, and nails. It helps to remove dryness from the skin and also helps in reducing acne scars. This oil is nongreasy and leaves a non-sticky feel on your body without drying it out.
Buy Now – Organic Vitamin E Oil 
Organic Cold Pressed Castor Oil 
Suitable For – Normal Skin 
This oil is a source of all-in-one skin benefits and is curated from nature's best ingredients like organic Ricinus communis and Vitamin E Acetate. This oil is known to nourish your skin and reduce pigmentation and scars. A product of Ayurveda, this cold-pressed castor oil also helps in giving your skin a natural glow and a youthful appearance.
Buy Now – Organic Cold Pressed Castor Oil 
Organic Turmeric Body Oil 
Suitable For – Normal To Dry Skin
It is known that turmeric is a potential ingredient of Ayurveda and works great on the skin. The turmeric body oil is extracted from the turmeric plant roots and has other organic oils like argan oil, coconut oil, castor oil, moringa oil, black seed oil, etc. This body oil is natural, safe, and loaded with a very rich amount of antioxidants. It makes your skin soft, smooth, and reduces allergic reactions if any. It is also known to fight signs of aging and remove dry patches.
Buy Now - Organic Turmeric Body Oil 
Organic Lemon Oil 
Suitable For – Dry Aging Skin
Lemon Essential Oils used to be popular among the Romans and Egyptians for treating infectious diseases. Organic lemon oil is certified and has calming benefits. This is a pure steamed-distilled cold-pressed oil extracted from lemon peels. This oil can be infused with your body oil to soothe your body and mind and reduce the signs of aging, dryness, and other skin disorders.
Buy Now - Organic Lemon Oil
Organic Eucalyptus Oil 
Suitable For – Dull and dry skin
The organic eucalyptus oil is a USDA-certified natural oil and is a popular name in aromatherapy. This oil has a sweet woody aroma that helps build immunity and eases muscle relaxation. You can infuse drops of eucalyptus oil with carrier oils like argan oil and apply this on your body as a massage oil to relieve fatigue and heavy-headedness.
Buy Now - Organic Eucalyptus Oil
So, if you're looking for all-natural body oils that will leave your skin feeling soft and hydrated, look no further than the list mentioned here. Each of these oils is perfect for hydrating and nourishing your skin so that you can feel confident and beautiful from head to toe. 
About Life & Pursuits
Life & Pursuits is a wellness and personal care brand specializing in skincare, haircare, and babycare products. Our products are organic and formulated from the new-age Ayurveda. The products are 100% cruelty-free and are certified by USDA (USA) and India Organic.
We promote awareness about the misuse of harmful chemicals and toxins into products and strongly promote 'People Against Toxins.' We believe in empowering the mass by enlightening you on the practice of 'green-washing.'
Have you tried any of our products? What was your experience? Let us know!
Leave a comment