Hair Care
10 Surprising Benefits of Mahabhringraj Oil You Didn't Know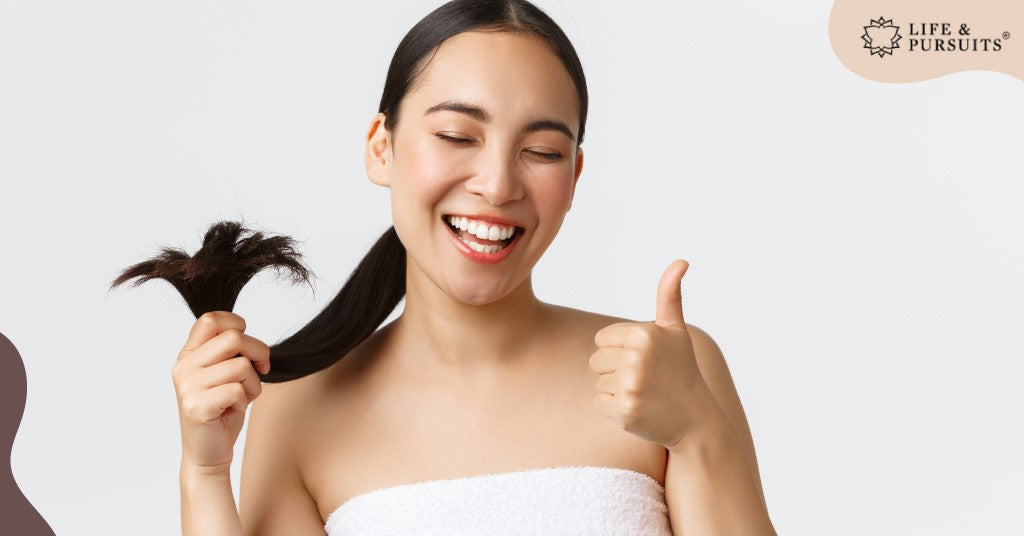 Bhringraj oil is derived from a plant called "Eclipta alba" in English which is often found naturally growing in moist places like India, Brazil, and Thailand. Known as one of India's ancient and miraculous herbs, the Bhringraj herb is a super ingredient that can do wonders for one's hair and overall health.
If you want, you can brew bhringraj oil at home by sun-drying bhringraj leaves, mixing them with coconut or sesame oil in a tight jar, and leaving it exposed to sunlight for another couple of days until the color turns green. 
Also read: Home Remedies to Counter Body Odor
Mahabhringraj oil contains additional ingredients such as sandalwood, cow's milk, turmeric, Indian lotus, Brahmi, Amla, and more.
However, it is readily available and can be bought directly for immediate use.
Let's look at some other unique uses of Mahabhringraj oil below.
Ten Amazing Benefits of Mahabhringraj Oil You Probably Didn't Know About
1. Aids in recovering memory loss
When combined with ashwagandha, another popular medicinal herb, a study has found that mahabhringraj oil could improve memory loss caused due to Alzheimer's disease. 
Tested on mice with artificially-induced Alzheimer's, the potent herb reportedly increased 'mitochondrial activity' in the brain cells of those mice. 
2. Contains anti-aging properties
Just as bhringraj oil is massaged onto the scalp, it can also be massaged onto the skin for better results. 
Due to its anti-aging properties, other aging signs such as fine lines and patchy skin are also taken care of by applying mahabhringraj oil directly onto the skin.
3. Reduces stress and promotes good health
People today lead a stressful lifestyle due to demanding careers and many other reasons which can also lead to hair fall and sleep-related disorders. 
Bhringraj oil is a boon for modern life as it can help induce a sense of calm, help promote better sleep patterns, and ultimately relieve stress.
4. A power ingredient for hair
Regular oiling of hair with Mahabhringraj oil increases blood circulation into the scalp and roots, activating hair follicles and enhancing hair growth. 
It is considered an excellent remedy for hair loss due to stress-related reasons. It is especially effective in today's modern lifestyle, where people feel easily stressed out.
5. Prevents hair loss
The minerals and vitamins present in the bhringraj leaves combat hair breakages and prevent hair loss. 
It strengthens, nourishes, and rejuvenates the hair by combating hair fall, making it look fuller and stronger.
6. Prevents greying of hair
Most people treat premature greying of hair by using chemically induced hair treatments such as coloring, which can be highly harmful to the hair's long-term health. 
Also read: 3 Fruity Homemade Remedies for Effective Tan Removal
Mahabhringraj oil is also used to prevent premature greying of hair and maintain its natural luster.
7. Prevents dandruff
A typical symptom of dandruff is the presence of a dry and itchy scalp. Mahabhringraj oil, when applied directly onto the hair, can get easily absorbed into the scalp, helping the scalp remain nourished and soft and preventing excessive drying. This helps prevent the occurrence of dandruff on the scalp.
8. Prevents scalp infections
It is difficult to wash hair on an everyday basis, which can accumulate dirt and sweat on the scalp area. This can lead to some serious scalp infections if not checked properly. 
Due to mahabhringraj oil's detoxifying properties, scalp infections can be kept at bay by regular oiling. Some other hair-related benefits of using mahabhringraj oil are curing baldness, dry hair, split ends, and itchy scalp.
9. Promotes healthy skin
Bhringraj oil is said to possess anti-inflammatory properties that help reduce acne, psoriasis, and dermatitis symptoms. 
Apart from helping to reduce wrinkles, aging, and dullness of skin, bhringraj oil works great for nourishing the skin and bringing a natural shine.
10. Helps improve mood and cure headaches
Mahabhringraj oil can also be consumed nasally and is known to alleviate headaches, improve mood and promote good health. 
The presence of cooling properties in mahabhringraj oil helps it to penetrate deep into the scalp and provide relief against headaches and migraines.
Life & Pursuits Organic Bhringraj Scalp Oil works as a magical elixir for promoting hair growth and providing much-needed nutrition to the scalp. This oil is completely organic and free from artificial stimulants and contains critical ingredients like bhringraj, sesame oil, hibiscus flowers, and castor oil. 
It is certified Organic by USDA (USA) and India Organic, making it free of unwanted toxins and 100% naturally made.
Leave a comment