Hair Care
5 Best Natural Oils for Strong Hair Growth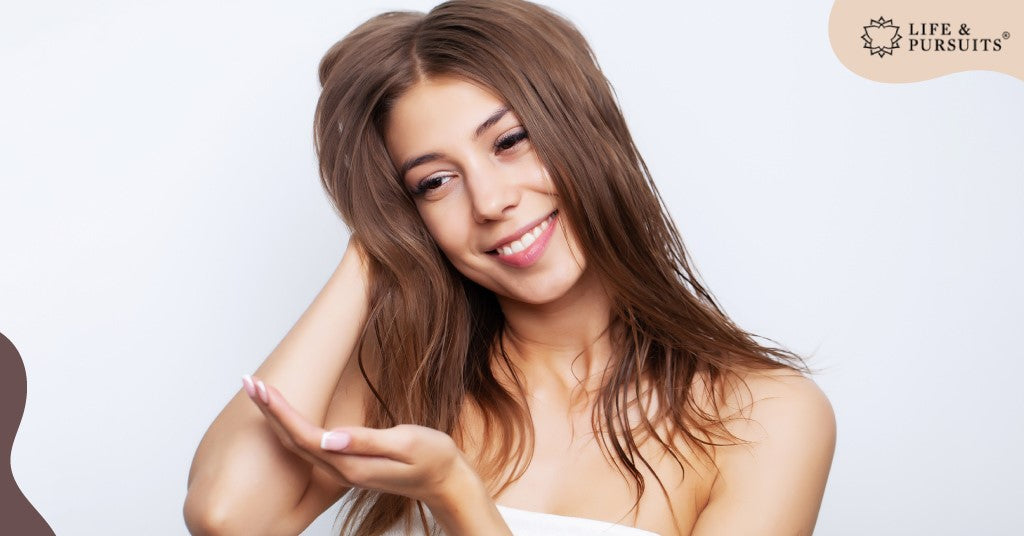 Thinning hair and receding hairlines are debilitating and discouraging. In addition, the mere sight of stray hair strands in places where they shouldn't be can be frustrating. 
Your hair changes a lot. Pollution and humidity are two elements that impact your hair daily, including triggering hair fall. And as a defense, while you do have some methods, your busy schedule comes in between.  
But thanks to the work-from-home trend, you may sit at your computer while using a rejuvenating mask or replenishing oil in your hair.
Nature has solutions for bountiful hair. And excellent hair growth oils are a part of it. There are a variety of oils to pick from, some of which promote regeneration and others that increase thickness.
Let's have a detailed look into it. 
What are Natural Oils for Hair?
Natural hair oils are not processed, do not contain any other additives, and are left in their natural state. 
They are suitable for use on hair or skin and have many benefits when used regularly. That being said, unlike oils made with minoxidil's hair loss medication, these oils have a tendency to expire over a shorter time.
When selecting a natural hair oil for yourself, look for one free of toxic chemicals, mineral oil, and artificial perfumes, as these can irritate your skin, cause scalp buildup, and weigh down your hair. 
While many people use almond or olive oil to oil their hair, it's vital to remember that each natural oil has its own set of qualities. Sometimes, your hair and scalp will reap the benefits and remain healthy if you use a mixture of natural oils.
Which are the Best Natural Oils for Hair?
Make sure you're using the correct product for your hair type before you start slapping stuff from your kitchen cabinet on your head. 
Check out our list of the best natural oils for hair development and health to see which natural components are cut.
1. Rosemary oil
Rosemary makes one of the best natural oils for hair by dilating blood vessels and encouraging cell multiplication in the scalp. It is also one of the most scientifically studied oils for its therapeutic capabilities, including its effects on hair. 
The oil oxygenates the scalp and facilitates nutrient distribution without harmful side effects. However, you must always conduct a patch test before proceeding with the application. 
Take about five drops of rosemary essential oil in a mixture of organic virgin coconut oil and massage it evenly into your scalp before bathing or showering. Allow it to sit on your scalp for 10 to 15 minutes before washing it off with a natural shampoo.
Benefits:
Alleviates scalp irritation.

Prevents hair loss.

Increases blood flow to the scalp.

May promote hair growth.
2. Sesame oil
Sesame oil, often known as ginseng oil, is obtained from sesame seeds. Sesame seeds are primarily grown in Africa and parts of the Indian subcontinent. 
The outer shells of these seeds burst when they get ripe. Pressing or toasting procedures are then used to extract the oil from these seeds – the former approach produces cold-pressed Sesame oil light in color, and the latter, a dark and aromatic oil often used in cuisines.
Sesame oil is high in essential fatty acids and antioxidants, which may benefit hair. The oil also has antibacterial, antifungal, and anti-inflammatory qualities that aid in treating a variety of scalp and hair problems. It also contains vitamins B and E, as well as minerals such as magnesium, calcium, phosphorus, and protein.
Benefits:
Helps treat dandruff.

Combats scalp dryness.

Treats premature graying.

Protects hair from harmful UV rays.

It soothes and makes hair shinier.
3. Castor oil
Castor oil is a constant in the list of best natural oils for hair growth worldwide. But, the question still begs – is Castor oil the most acceptable option for those who want to grow their hair longer? The answer is yes. 
What experts say about castor oil is that it is chock-full of antioxidants (Vitamin E) that are known to fight free radicals responsible for hair graying and scalp inflation, flaking, redness, dryness, and tenderness – all of which could inhibit healthy hair growth. So, is castor oil potent in keeping the scalp nourished and diverting hair loss? A resounding yes! 
Benefits:
Helps lubricate the hair shaft.

Increases flexibility, thereby decreasing the chance of breakage.

Effective for dandruff treatment.

Reduces hair loss.

Heavily nourishes the scalp.
4. Almond oil
You probably already have a bottle of almond oil in your home,  so getting a gorgeous, healthy mane isn't tricky. 
Almond oil is high in magnesium, calcium, and zinc, which helps strengthen hair and keep it from falling out. In addition, almond oil is abundant in protein, omega-9 fatty acids, and vitamin E, making them a popular food in many ancient societies. Almond oil may, therefore, boost your hair's gloss and strength as well.
Almond oil is also an emollient, meaning it can fill the gaps in your hair shafts at a cellular level. The result is often visibly shiner and soft-to-touch hair. 
Use it once or twice a week before washing your hair.
Benefits:
Avoids scalp inflammation and infection.

Helps avoid dandruff.

Hydrates and decreases the frizziness of hair.

Makes hair shinier from a cellular level.

Makes hair less prone to breakage.

Prevents split ends.
5. Tea tree essential oil
There is no shortage of anti-dandruff, anti-inflammatory shampoos worldwide that use tea tree essential oil as its active ingredient.
Tea tree essential oil is derived from the leaves of the Australian tea tree, Melaleuca alternifolia. Although not an Ayurvedic oil, it has traditionally been used in Aboriginal medicine.
One study found tea tree oil was more effective in staving off dandruff in men and women than a non-therapeutic placebo. Therefore, the effects of tea tree oil on dandruff may be useful for general hair health and a healthy scalp, or if you just have oily hair.
Benefits:
Makes hair look thicker.

Adds shine to your hair.

Creates a conducive environment for a healthy scalp.

May promote hair growth.

Prevents dandruff.

Prevents oily scalp.
Leave a comment