Hair Care
6 Effective Natural Hair Oils to Prevent Gray Hair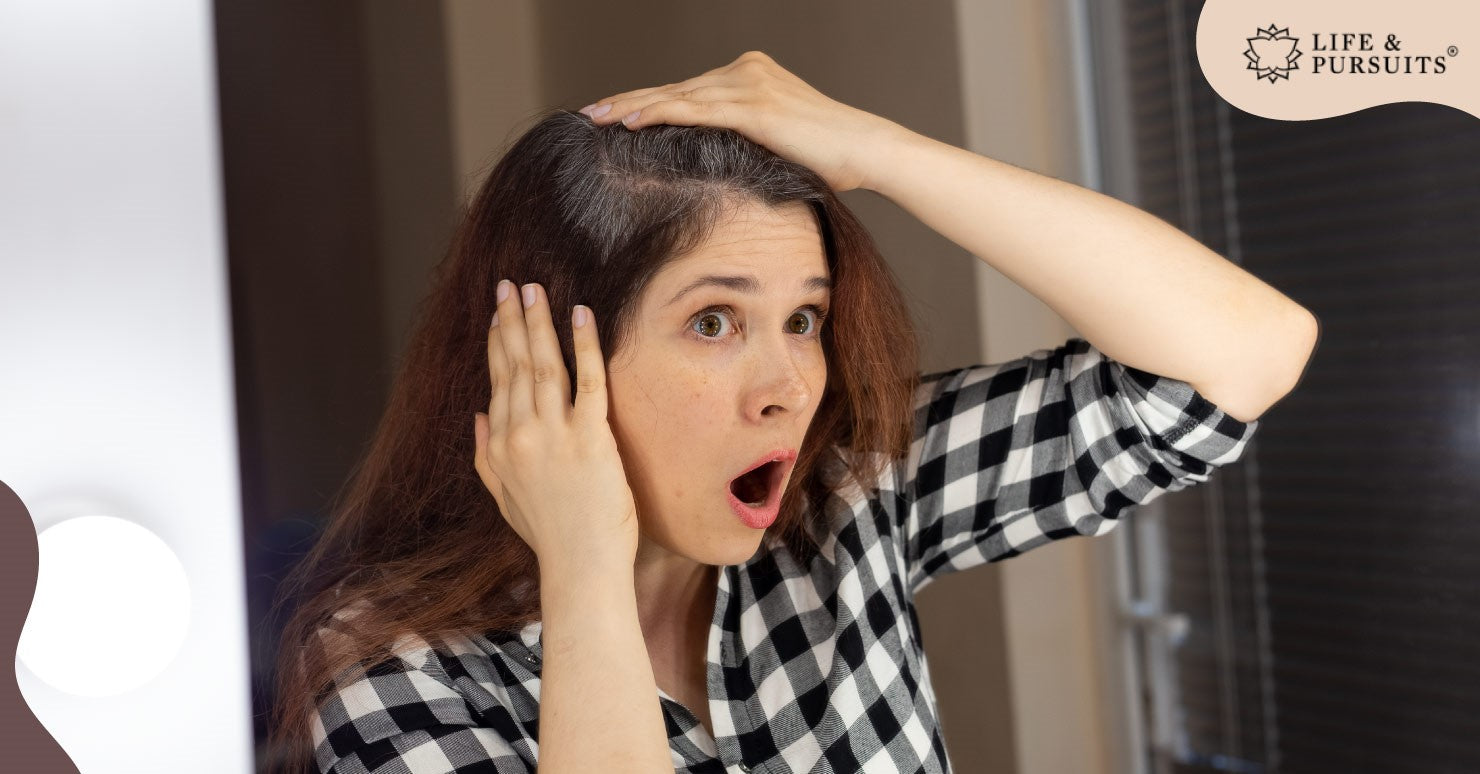 Do you get worried when someone spots the gray strands on your scalp? Are you afraid to check your hair in the mirror? Don't be, because here's the solution to your problem! 
The pigment in your hair is called melanin and the loss of this pigment results in gray hair. There are many reasons for graying of hair, it can happen due to stress, dryness, hereditary, pitta imbalance, and even deficiency of vitamin B12. 
Nowadays many youths panic about premature graying of hair, which is not only caused due to the above-mentioned factors but also as a result of chemicals and artificial ingredients found in haircare products. So, switching to natural oils is the best choice to have thick dark hair!
Here are 6 Natural Oils that are effective in will preventing graying hair
Always prefer natural oils over harmful chemicals. Essential oils are commonly used in alternative and homeopathic medicines due to their effectiveness and low risk of side effects.
Amla oil
Amla is also known as Indian gooseberry and is a depot of nutrients. Amla can very well maintain the pH level of your scalp, reducing the growth of white flakes from the roots. It increases hair density, darkens the hair, and keeps its shine intact. Amla oil rejuvenates your hair by taking out natural hair oil and also reduces stress which is the main cause of premature graying. 
Castor oil
Castor oil is extracted from the seeds of the plant and is tinged with pale yellow. This oil helps to boost the circulation of blood and prevents hair from losing its pigment. The humectant effect of this oil retains the moisture of hair strands, keeping the dark shade intact.
Mustard oil
Antioxidants, healthy fats, and selenium are flushed in Mustard oil. This abundance of vital nutrients nourishes the hair and gives natural shine and strength. The oil also helps to retain the pigment of the hair, thereby keeping them from premature graying. This golden oil is present in every Indian household. It not only makes the food tasty but is also great for maintaining healthy hair.
Mustard oil has additional anti-fungal and anti-bacterial properties that help in maintaining the health of your scalp and prevent graying of hair.
Bhringraj oil
Bhringraj is also known as the false daisy. If you want thick, dark, and lustrous healthy hair, then it's time for you to shop for Bhringraj oil at Life & Pursuits. Bhringraj leaves are commonly used to obtain black dye, which is then used for making hair colors. This magical oil when mixed with Amla helps to prevent graying of hair. Bhringraj helps in retaining the natural color. 
Argan oil
Argan oil is well-known for its treatment of gray hair. It not only prevents hair from graying but also makes the follicles stronger. This oil is extracted from kernels of the Argan tree which is found only in Southwestern Morocco. Argan oil has high concentrations of vitamin E which helps to keep the hair shiny, soft, healthy, and glossy. 
Tocopherols are present in Argan oil. These active contents help to protect hair from UV rays and hence prevent it from drying out. 
Coconut oil
In Indian households, Coconut oil is the most commonly applied hair product. This oil helps to preserve the proteins and has nourishing properties that help retain the melanin pigment of the hair. 
Two tablespoons of Coconut oil to your hair and a massage before bath will give you the best results.
Life & Pursuits offers Organic Ayurveda wellness and beauty. Their products combine the ancient wisdom of Ayurveda with the most stringent organic international standards. To shop online, visit Life & Pursuits.
Leave a comment