Hair Care
Eight Myths About Hair Oils. Should You Trust Them?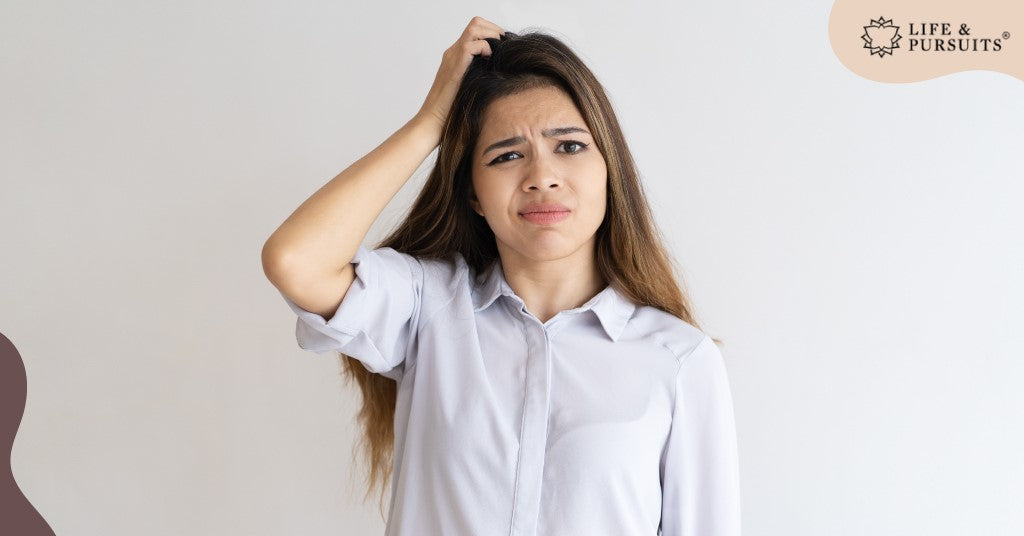 You've probably heard them all: "Keep your hair oiled overnight" or " Using too much oil will help in hair growth." Unfortunately, such hair oil myths have been around for a long time, and most of us have accepted them as a scientific fact. Yes, you've read that right: they're MYTHS! (you'll see why).
But, trust us when we say there is a lot of misinformation regarding determining hair oils and oiling your hair. However, if done correctly, a hair-oil massage can do wonders for your tresses.
This article will see the myths about hair oils and find out whether they've got any reasonable basis for it or not. 
Do Hair Oils Really Do Wonders on Your Hair?
Hair oils can help your hair in various ways, including reducing shedding, promoting growth, avoiding split ends, and healing broken hair shafts. Because various oils bring distinct benefits, we employ them in our organic oils at Life & Pursuits.
For example, regularly applying onion oil can help prevent and treat baldness. Onion oil is high in sulfur, which helps to prevent hair breakage, split ends, and thinning. On the other hand, Virgin coconut oil helps prevent hair breakage and damaged ends while increasing hair volume.
Oil promotes scalp health, says Khushboo Garodia, a certified trichologist, or hair and scalp expert. Gently massaging the scalp aids in exfoliation and, in some cases, reduces hair fall, she shared. 
Therefore, hair oils are undeniably effective. However, there are a few myths concerning hair oils widely held. Let's look at what's true and what isn't.
Top Myths About Hair Oils that you Probably Must Have Heard
One thing is ingrained in everyone's mind regarding hair: oiling is good. A coconut oil massage, for instance, has anecdotal evidence across cultures to solve all hair problems–from hair fall to hair thinning to split ends and more. The use of oil massage on the scalp is often thought to be the single answer to all hair problems.
But the fact is, we have no idea that we have been doing a few things incorrectly.
Myth #1: "All hair oils are the same."
Truth: Not every hair oil is created equal.
Different hair oils have different properties that make them suitable for various applications. For example, organic castor oil has been shown to boost hair development. Many other plant-based oils help prevent hair loss, like Bhringaraj. Some oils help to prevent split ends, while others nourish and strengthen hair follicles.
Myth #2: "Hair oils weigh your hair down."
Truth: Most oils are lightweight and, when used correctly, have no weighed-down effect.
If your hair oils have a greasy feel to them or make your hair feel weighed down, you may be using the wrong oil for your hair. Furthermore, if you apply too much oil, it will feel greasier. 
When applying hair oils, start with a modest amount, around the size of a pea on your palm. Begin applying the oil with the tip of your strands and work your way up the length of your hair carefully. 
If you're merely addressing split ends, stop at the cheekbone level. However, if you want to encourage hair growth or prevent hair loss, you can work the entire length of your mane and massage oils into your scalp.
Myth #3: "Keep Your Hairs Oiled Overnight or the Whole Day."
Truth: Applying oil on your hair for 15-30 minutes is more than enough.
Keeping hairs oiled all day or overnight and washing them the next day is a myth. It may be scientifically proven that keeping oil in your hair overnight will help them nourish well, but time doesn't always permit the same. In case you don't have time and want to go outside, you can't go with oily hairs ('coz pollution loves oily hairs), so oiling hairs and washing off the same in 15 minutes is more than enough for you to build strength in hairs.
Myth #4: "Braiding Your Hair Tightly After Oiling Helps in Hair Growth."
Truth: Tight hairstyles will make your hair roots weaker.
Hair becomes vulnerable at times, and one of those times is right after you have oiled it! Combing your hair tightly after oiling will, first, result in knotting, which we all despise. On the other hand, tight hairstyles like braids will weaken your mane's roots and cause shedding. So, after oiling, no more tight ponytails or pigtails! 
Myth #5: "Hair oiling increases dandruff."
Truth: Oiling your hair regularly helps get rid of dandruff.
It is critical to comprehend what creates dandruff in the first place. Dandruff can be caused by overuse of hair products, a lack of hair oiling to keep the scalp moist, or even fungal infections. While medicinal oil should be used in cases of fungal infection, oiling your hair regularly and thoroughly washing it afterward will help you get rid of dandruff and prevent its recurrence.
Myth #6: "Hair oiling is unnecessary."
Truth: Oiling your hair keeps the scalp healthier.
Whether you oil your hair or not, using shampoos and conditioners regularly will keep it silky. However, they will not improve your hair in the long run, resulting in hair fall, brittle hair, and other issues as time passes. Oiling the scalp creates the ideal environment for hair growth, making it healthier and more robust. However, make sure to let the oil sit for a few minutes before washing it off with a gentle shampoo.
Myth#7: "You have to apply large quantity of oil to penetrate into your scalp"
Truth: The quantity of oil does not determine its efficacy.
Depending on the length of your hair, apply enough to cover it from root to tip while also nourishing the scalp. The amount can also change depending on the weather or the natural dryness of the scalp, but a little goes a long way.
You'll need about 1 or 2 tablespoons depending on the length of your hair and if you want to saturate the ends or the scalp as well. You may need as much as a quarter cup for exceptionally long, thick hair. Massage the oil into your dry hair and cover it with a warm towel or a shower cap for up to 15 minutes.
Myth#8: "It's hard to apply hair oils."
Truth: Applying hair oils is much easier than you think.
Applying hair oil is simple if you understand the "why." Apply it from the roots to the ends of the strands for deep treatment of extremely dry or damaged hair strands. 
Perhaps you only want to use it for touch-ups in between shampooing. Your needs and hair type determine how you use oil. Begin with a bit of amount and gradually increase it to obtain the desired result.
Leave a comment