Hair Care
How to Use Mahabhringraj Oil for Healthy Hair Growth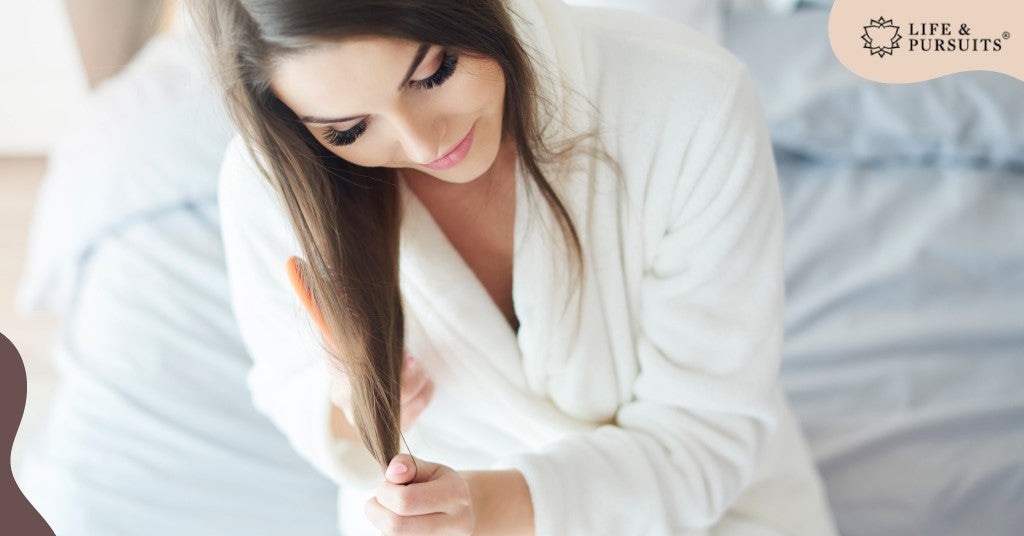 Good hair days with healthy, voluminous, frizz-free hair is a dream come true for many. But it's not impossible to achieve. To improve hair development and scalp health, haircare, like skincare, requires a deeper awareness of your body's requirements. 
While most shampoos and conditioners claim to repair hair fall and boost hair growth, your body needs nourishment from within to absorb the goodness. Here, ayurvedic oils come in handy. They're a blend of potent herbs that nourish the scalp and strengthen hair from root to tip.
For instance, the oil from Mahabhringraj or the Bhringraj (meaning king of herbs) leaves has been sworn as a miraculous elixir for hair for millennia – it is made by combining the leaves of the Bhringraj plant with a carrier oil and heating it. 
Here, we'll discuss the benefits of Bhringraj and how to use Mahabhringraj oil for healthy hair growth.  
Mahabhringraj Oil - Benefits and Application 
Bhringraj also called "false daisy" (Eclipta Alba) has become synonymous with almost all herb-based hair oils because of its iron and vitamin-rich composition that improves blood circulation and strengthens hair follicles. 
Here are some more benefits of the oil:
1. It treats dandruff and dry scalp
Regular application of Mahabhringraj oil, apart from stimulating hair growth and re-growth, helps treat dry, flaky scalp by providing adequate moisturization, thanks to its anti-inflammatory properties. Moreover, because of its antibacterial and antifungal properties, Bhringraj prevents the spread of dandruff and other infections. 
2. It reduces hair fall
A gentle massage of Mahabhringraj oil on your scalp, as relaxing as it'd be, gradually would result in the growth of new hair follicles and strengthen your roots to prevent further hair fall. This oil contains vitamin E, which fights free radicals that block hair growth. 
3. It delays graying and provides deep nourishment 
Did you know that when your scalp runs out of melanin, you see your grays popping? Applying Mahabhringraj oil on your scalp could help retain your hair's color because of the restorative and antibacterial properties of active ingredients present in it, like Haritaki and Jatamansi. 
4. Relieves headaches 
Yes, massaging Bhringraj oil on your scalp would be a spa-like experience, thanks to the presence of magnesium in it. Magnesium is known to reduce muscle tension, improve mood, and reduce stress. And therefore, Bhringraj oil provides relief from headaches and migraines and keeps your head cool and mind relaxed.  
Organic Bhringraj oil, for instance, provides deep nourishment to hair since it's packed with vitamins and minerals that regulate blood circulation, reduce hair fall and treat hair damage. So including Mahabhringraj oil in your hair care routine would immensely benefit your hair health in many ways.
Ways to Incorporate Mahabhringraj Oil in Your Hair Care Routine
Mahabhringraj oil can be applied standalone as pre-wash hair oil or blended with other crucial ingredients like amla, hibiscus, and other career oils like coconut or castor oil for deeper penetration into the scalp. 
Listed below are a few ways to use mahabhringraj oil to benefit both hair health:
1. Aloe Vera and Bhringraj for hair health
Aloe vera is a powerhouse of nutrients and vitamins A, C, and E that condition the scalp and promote healthy hair growth. A blend of powerful ingredients like aloe vera and Bhringraj oil is the perfect recipe for enhanced hair nutrition and growth:
Method:
Take 2-3 spoonfuls of aloe vera gel or homemade aloe vera paste and mix it with 2-3 spoonfuls of Bhringraj oil.

Gently apply the mixture on your scalp and across the length of your hair. 

Let the oil rest for 30 mins before shampoo wash.  

Use a mild cleansing shampoo and repeat application 2-3 times a week for better results.  Aloe Vera has cooling properties and hence, user discretion is advised in case of repeated use and prolonged application. 
2. Bhringraj and Henna for shiny hair
Rich in Vitamin E and antioxidants that promote hair health, henna is a tried-and-tested cure for soft, shiny, and dandruff-free hair. Combining Bhringraj and Henna would provide the natural keratin treatment that your hair needs. 
Method: 
Take a cup of henna powder or as required depending on the length of your hair. 

Add 2-3 spoonfuls of Bhringraj Oil to the henna powder enough to make a thick paste. Alternately, you can also presoak the henna powder in tea water overnight and oil your scalp with Bhringraj oil before applying the paste. This is done to avoid dryness and retain moisture in the scalp. 

Put on a pair of gloves and start applying the henna paste with a brush along the length of your hair starting from the center of your head.  Ensure to apply a decent amount of henna paste throughout the scalp too. 

Cover your head in a plastic wrap/shower cap and let it rest for 2-3 hours. 

Wash henna off with warm water and gently detangle sections of hair to wash away the remaining pieces of henna. It is not recommended to shampoo your hair post-application. If required you may cleanse your hair with shampoo before applying henna. 

Henna takes 24-48 hours to give off the proper color and though initially, it appears orange, the color deepens to auburn gradually. 
3. Mahabhringraj and coconut for complete nourishment. 
Coconut oil is rich in medium-chain fatty acids that provide deep nourishment and condition the hair from root to tip. Together, Bhringraj and coconut are a powerful combination for overall hair strengthening. 
Method: 
In a bowl, take equal parts of castor oil and Mahabhringraj oil as required and heat it for a few seconds. 

Once slightly warm, gently massage the mixture on your scalp and leave it on for 30-40 mins. 

Wash it off with a mild shampoo. 

Repeat application 2-3 times a week for noticeable results. 
4. Mahabhringraj with Shikakai for deep nourishment.
Shikakai is to hair what aloe vera is to skin. Brimming with vitamins, micronutrients, and antioxidants, Shikakai is a miracle herb for healthy and strong hair. Coupled with mahabringraj oil, it could help prevent balding and boost hair growth. 
Method 1:
Massage bhringraj oil gently on the scalp and let the oil sit for some time before washing. 

Use Shikakai powder instead of shampoo to cleanse your hair. Saponin present in Shikakai works up a lather when mixed with water and therefore effectively cleanses your hair without causing any hard damage.  
Method 2: 
Make a paste of Shikakai powder with mahabringraj oil. 

Apply it along the length of your hair and on your scalp and let it sit for 30-40 mins.

Wash it off with warm water. Use a mild shampoo if necessary. 

Try this mask 2-3 times a week for better results.  
You can also try a mask of Mahabhringraj powder with yogurt, egg yolk, and other organic conditioners of your choice for frizz-free, soft, and moisturized hair.  
Haircare by Life & Pursuits 
We understand. Haircare DIY masks do seem trustworthy and promising. And you would be more than willing to give those a try if only you had a supply of organically prepared Bhringraj oil to put all your haircare distresses to rest. 
At Life & Pursuits, we have answered your wishes with our Organic Bhringraj Scalp Oil - a blend of powerful ayurvedic herbs and seeds, brimming with the goodness of nature to improve scalp health and hair nourishment. 
Organic Bhringraj Scalp Oil is loaded with priceless activities like amla, hibiscus, sesame, and castor oil, all of which are a powerhouse of vitamins and minerals essential for a lustrous mane and healthy scalp. Made of 99% certified organic ingredients, Organic Bhringraj Scalp Oil is available for sale on our website and Amazon.com.   
Haircare and skincare by Life & Pursuits are as organic as they could get since all our products are toxin-free. Certified by USDA (USA), one of the most stringent organic certification, all our products are derived, molded, and prepared through nature's offerings and are therefore as healing and rejuvenating as only nature can be.   
Try our Organic Bhringraj Scalp Oil now to benefit from the goodness of Mahabhringraj oil, named so because it truly is a king of staving off hair woes.  
Leave a comment