Hair Care
6 Natural Products to Prevent Hair Loss
Learn about natural products to prevent hair loss. Get guidance on using natural methods and home remedies to increase hair growth and stop hair loss.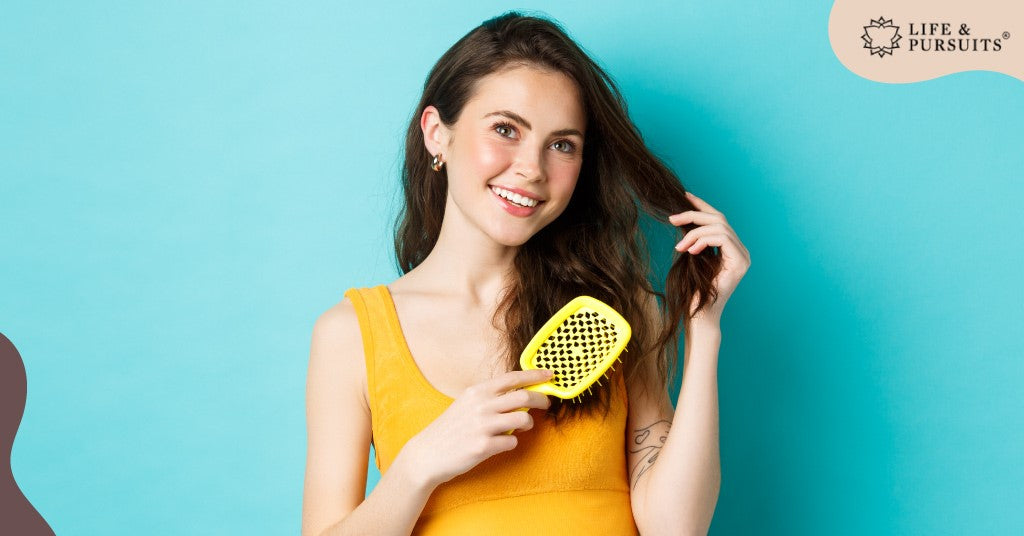 Waking up to a pillow with loose hair strands is a nightmare!
Every person goes through hair loss at some stage of their life for various reasons. Reasons could be stress, genetics, hormonal imbalance, and even the use of harmful chemical substances. Unfortunately, most of the products we buy for our hair, like shampoos, conditioners, and hair color dyes, contain harmful toxins. Hence it is essential for you as a buyer to be educated about the products you use.
This article explores six natural ways in which you can prevent hair loss. 
Six Natural Ingredients to Prevent Hair Loss
Here are some natural ways you can prevent hair loss by yourself:
1. Power plant, aloe vera
One of the most common reasons for hair loss is dandruff, but you have nothing to worry about if you have access to aloe vera. This plant is a lifesaver, and it can be used for a variety of health and hair-related purposes. 
For instance, you can eat raw aloe vera for antioxidants and use it on acne-prone skin to reduce inflammation and pimples. Aloe vera also works to decrease dandruff and hair loss by soothing the scalp and removing the excess oils that block healthy hair follicles.
Direction for usage:
Extract the aloe vera gel from the succulent leaves, then directly apply to your scalp and massage it. Rinse off after an hour. Do it 2 to 3 times a week and watch your hair fall stop!
2. Amla-lemon juice  
Indian Gooseberry is also called Amla. The citrus fruit helps strengthen and avoid premature greying of hair. When combined with lemons, the concoction becomes a potent formula that prevents hair fall and premature greying. 
While lemon increases the shine and reduces oil and dandruff, Amla also promotes hair growth and contains vitamin C. This ingredient is very widely used in the Indian beauty and wellness industry. 
Directions for use:
Take one teaspoon of amla powder and mix it with a few drops of lime juice. Apply this thick paste on the scalp and wait for 40 mins. Later rinse it off with a mild shampoo.
3. Mask up with Methi 
Methi, also called Fenugreek, is a widely-used spice in Indian cuisine and makes for equally-potent haircare stuff. Fenugreek helps to repair damaged hair follicles and promotes natural hair growth. It has high protein content, which strengthens the hair and prevents dandruff. It also helps increase the volume of your hair.
Directions for usage:
Keep the fenugreek seeds in water overnight. The next day, grind them into a paste and apply them to your scalp. Keep it for an hour and rinse it off with cold water. Do it once a week. 
You can also opt for the more popular oil-infusion method. Simply heat some coconut (or any natural hair oil of your choice) oil to boiling point and put the fenugreek seeds. Boil the seed-infused oil for five minutes and let it cool down completely (preferably overnight) before applying it to hair like any natural oil.  
4. Coconut
Last, but certainly not least, the reason behind Indian women's luscious hair is coconut oil. The wonder fruit's fatty acids help strengthen the roots of hair follicles and promote hair growth. It also helps to repair dry and damaged hair.
Directions for usage:
Take three teaspoons of coconut oil and warm it. Then apply it to your scalp and massage gently. Leave it overnight and rinse with a mild shampoo the following morning. Practice this twice per week.
5. Green tea, the ayurvedic cleanser
Green tea is an excellent home remedy to stop hair fall and increase hair growth! So the next time you drink some, apply some for your hair too!
Green tea's epigallocatechin gallate (EGCG) may prevent hair loss by decreasing the activity of hormones that cause hair loss and stimulating hair follicles, as well as boosting hair regrowth.
Direction for usage: 
Take a cup of hot water, soak two green tea bags in it and let it rest for 5 minutes. Allow the mixture to cool and apply it to your scalp. Massage for 10 minutes and leave it for an hour. Rinse your hair in cool water. It is recommended to do it two times a week.
6. Eggs 
Beauty industry's go-to ingredient, eggs, may stink a little, but it's worth it. Due to the abundance of protein, zinc, sulfur, and phosphorus. It prevents split ends, increases the strength of the individual hair shafts, and promotes hair growth. So what are you waiting for? Apply some eggs and flaunt your shiny, luscious hair!
Directions for use: 
Mix 1 egg with one teaspoon of olive oil and honey. Apply this from the roots to the tips and let it rest for half an hour. Later, rinse it with mild shampoo and cold water.
A healthy lifestyle also helps reduce stress and regulates hormonal balance, which significantly affects the quality of your hair. Yoga and a proper diet will also help you decrease hair loss and feel better about yourself. 
Use the above tips regularly and witness the change yourself!
Leave a comment