Hair Care
6 WAYS TO REDUCE HAIR LOSS & PROMOTE NATURAL HAIR GROWTH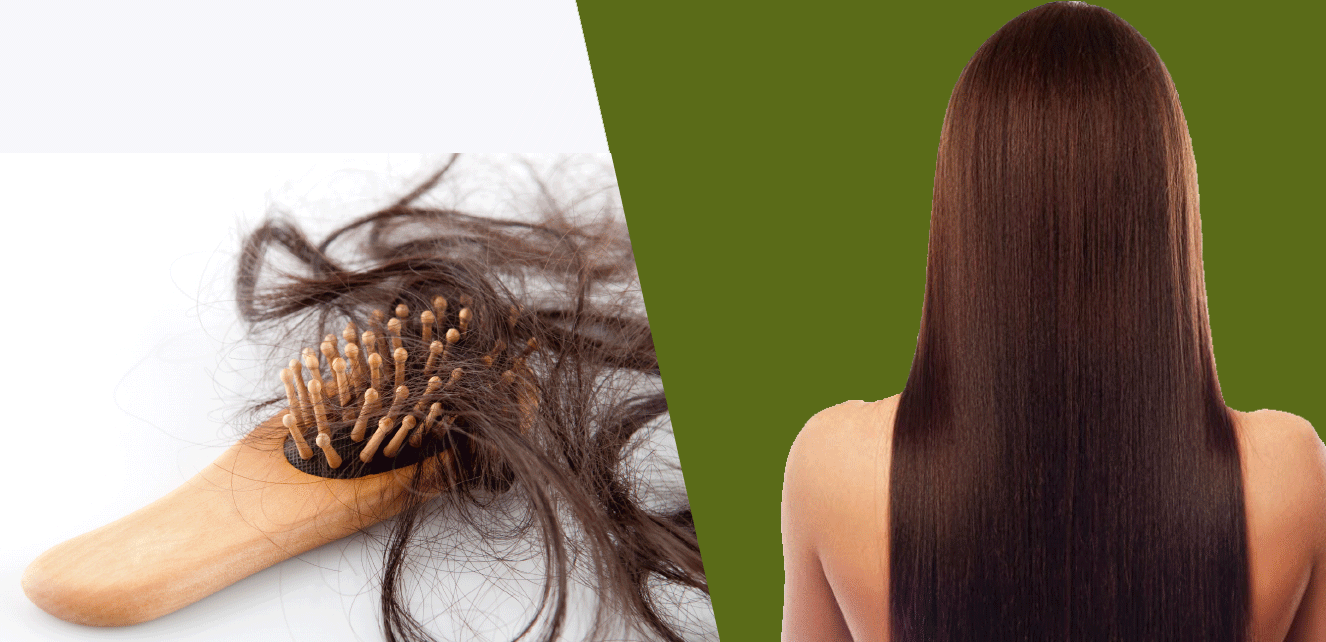 The problems of hair loss and eventual balding can be a cause of distress for all of us. Genetic factors play a vital role in hair loss, and exposure to pollutants and chemically laden hair treatment products can be detrimental to your hair. An array of other factors such as stress, medication, and diseases can also cause hair loss. Here are several ways to reduce hair loss and boost healthy hair growth:
1. Warm Oil Massage
Oil massage nourishes the roots and helps speed up hair growth. Use an organic anti hair fall oil, and massage your scalp in circular strokes. Allow the oil to seep into the roots, so that it can form a protective layer on the strands. Do this at least two-three times a week and witness accelerated hair growth.
2. Gentle Brushing
Use a wide-toothed comb to avoid harsh friction and hair breakage. Our scalp produces its own natural oil, which gets distributed throughout the hair strands while brushing. Keep in mind that wet hair is more vulnerable to breakage and this should be avoided. Also, avoid tying your hair all the time and let it loose whenever you can.
3. De-Stressing
Mental stress and anxiety lead to increased hair fall. Take out time from your busy schedule to unwind and relax. Exercise, eat healthy, meditate, and sleep well to keep stress at bay.
4. Using Organic Hair Products
Stop using toxic hair treatment products that cause irritation in your scalp in the long run. Organically certified hair care products aid natural hair growth without damaging your scalp. For instance, bhringraj oil contains ayurvedic active herbs that effectively reduce hair fall.
5. Eating A Balanced Diet
A diet lacking necessary nutrients leads to hair loss and deteriorates hair quality. Most people fail to appreciate the fact that poor nutrition contributes heavily to hair problems. Eat foods rich in protein, vitamins, and biotins, such as eggs, berries, green leafy vegetables, and nuts, as they contain beneficial compounds that boost hair growth. You can consult a nutritionist to improve your food habits and lifestyle in accordance to your medical history and personal preferences.
6. Using Ayurvedic Herbs
The use of natural, Ayurvedic herbs to combat hair loss is an age-old practice. Natural ingredients such as aloe vera, rosemary, amla, and neem help detoxify scalp, restore hair pigment, and accelerate hair growth. These herbs are generally mixed with natural oils such as olive or coconut oil and massaged gently into the scalp.
As it might be cumbersome to procure and use such herbs, the best way to use them is to apply Life & Pursuits' Organic Bhringraj Scalp Therapy Oil, which contains natural and ayurvedic herb actives. Moreover, unlike most hair oils available in the market, this real certified organic hair oil is completely free of parabens, synthetic fragrances, and toxic chemicals. Within 25 massage sessions, you shall notice that your hair has attained a natural, healthy shine.
Leave a comment